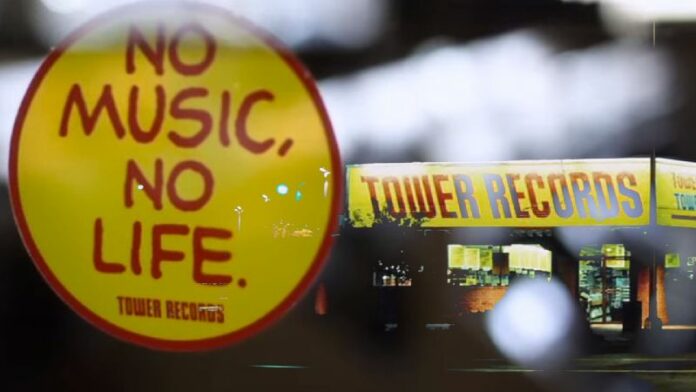 BANGKOK — In the late '90s, Kasidit Samniang worked his first job as a teen at a Tower Records at Emporium Bangkok. Dusting, arranging cassettes alphabetically and ordering music products exposed Gene to the music industry.
That life-changing experience for Kasidit, now better known as glam/trans singer Gene Kasidit, is one of many from a time when the music store was a way of life throughout the world, including in Bangkok where Gene and others such as Kanchat Rangseekansong could be found poring through records.
"Tower Records was probably the biggest CD retail store at the time. I spent nearly two hours in there," said Kanchat, who went on to make a career writing about pop culture and the mass media. "The store was so big, and I was so nerdy, I browsed from A-Z."
Behind the iconic red and yellow logo of Tower Records lie many stories that feature in documentary film "All Things Must Pass" to screen later this month, with Kanchat, Gene and other celebs present to add their own tales.

Organized by Documentary Club, the film will examine Tower's rise and fall at screenings held in Bangkok and Chiang Mai.
The film was directed by Colin Son-of-Tom Hanks, who grew up with the store. To complete the film, 38-year-old Hanks spent seven years shooting and interviewing the company's founder, former staff and celebrity fans such as Elton John, Bruce Springsteen and Dave Grohl of the Foo Fighters.
Tower Records began as a small cassette store in California's Sacramento in 1960 before the company expanded to San Francisco, then nationwide and later to nearly 30 countries including the United Kingdom, Japan and Thailand. It declared bankruptcy in 2006.
In Bangkok, Tower could once be found at CentralWorld (then "World Trade Center"), Siam Center and Emporium.
See it at 8pm on March 28 at CentralWorld's SF World Cinema. Gene and Kanchat and friends will share their experiences in a discussion beginning at 6pm at Eat @ Double U restaurant on the mall's ninth floor. Advanced booking is available online.
A young Elton John browses records at a Tower Records store on Sunset Boulevard in Los Angeles in 1975.
On March 31 it will return to SF Central World for a longer run and also play at SFX The Crystal Ekamai-Ramintra and SFX Maya in Chiang Mai.
All showings will include Thai subtitles.

A Tower Records store around 2000 at the Emporium mall in Bangkok. Photo: Pao Rapat / Facebook