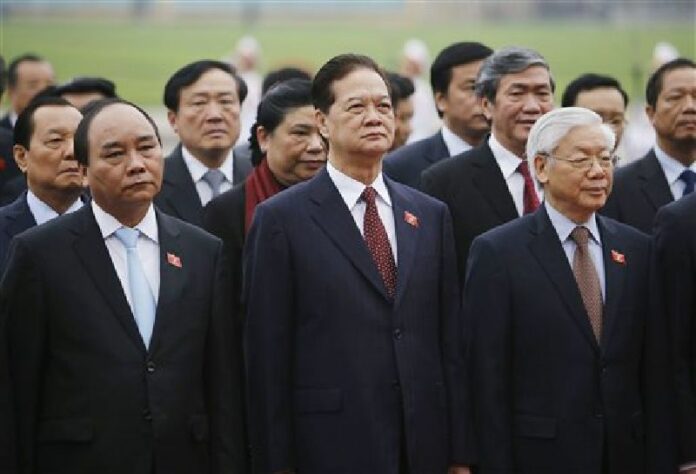 HANOI, Vietnam — A prominent Vietnamese blogger who is a former police officer and the son of a late government minister went on trial Wednesday for alleged anti-state postings.
Nguyen Huu Vinh and his assistant, Nguyen Thi Minh Thuy, are accused of abusing democratic freedoms to infringe on the interests of the state, an offense punishable by up to seven years in prison, said his lawyer, Ha Huy Son.
Vinh, 59, and Thuy, 35, went on trial Wednesday in Hanoi, Vietnam's capital. They have been in jail since they were arrested in May 2014.
Vinh, better known as Anh Ba Sam, was a police officer with the Ministry of Public Security in Hanoi. He quit in 1999 and set up a private investigation firm. His father was a government minister and Vietnam's ambassador to the former Soviet Union.
In 2007, Vinh set up the Ba Sam blog. He later launched two others — Dan Quyen, or Citizens' Rights, in 2013, and Chep Su Viet, or Writing Vietnamese History, in early 2014. The blogs provided links to news on political, social, economic and cultural issues from state media as well as activists.
According to state media, the indictment says two dozen articles posted on Dan Quyen and Chep Su Viet had "untruthful and groundless content" and "distort the lines and policies" of the ruling Communist Party. It also says the articles "present a one-sided and pessimistic view, causing anxiety and worry, and affecting the people's confidence" in the party and government.
The two defendants have denied the charges, saying they "have no relations" with the postings, according to Son.
The trial was originally scheduled for Jan. 19, but was postponed on the eve of the Communist Party's congress, which elected Vietnam's new leaders and charted the country's course for the next five years.
International human rights groups and some Western governments, including the United States, have criticized Vietnam for jailing dissidents for peacefully expressing their views. Hanoi denies that, saying only those who break the law are put behind bars.
Amnesty International and Human Rights Watch have called for the release of both defendants. "The trial and continuing detention of a blogger and his assistant who have already spent almost two years in jail is farcical and a blight on the country's human rights record," Amnesty said in a statement.
Story: Associated Press