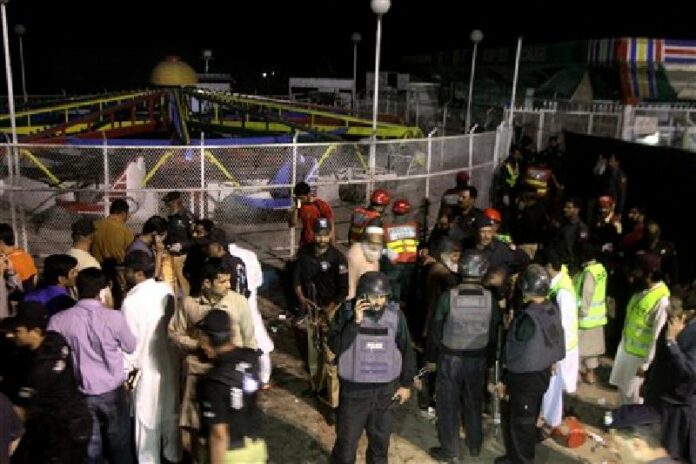 ISLAMABAD — A bombing on Easter Sunday killed 65 people in a park in the eastern city of Lahore that was crowded with Christians, including many children.
A breakaway Pakistani faction of the militant Taliban group claimed responsibility. Ahsanullah Ahsan, spokesman for Jamaat-ul-Ahrar, told the Associated Press that a suicide bomber with the faction deliberately targeted the Christian community.
The explosion took place near the children's rides in Gulshan-e-Iqbal park local police chief Haider Ashraf said. He said the explosion appeared to have been a suicide bombing, but investigations were ongoing.
The attack killed 65 people and wounded over 300, said Deeba Shahnaz, a spokesman for Lahore rescue administration.
Punjab's chief minister Shahbaz Sharif announced three days of mourning and pledged to bring the perpetrators to justice, said Zaeem Qadri, a spokesman for the provincial government.
The park was manned by police and private security guards, police chief Haider Ashraf said. "We are in a warlike situation and there is always a general threat but no specific threat alert was received for this place," he added.
Schools and businesses in the city will remain closed on Monday, the city's schools association and the Union of Lahore Traders said.
Prime Minister Nawaz Sharif held a meeting to assess the security situation in Lahore, according to a government statement. Pakistan's army chief, Gen. Raheel Sharif, also convened an emergency meeting of the country's intelligence agencies to begin to track down those responsible for the attacks, said army spokesman Gen. Asim Saleem Bajwa.
Salman Rafiq, a health adviser to the Punjab government, called on people to donate blood, saying that many of those wounded were in a critical condition.
One witness, who wished to be identified only by his first name, Afzal, told AP that he had taken 20 children to hospital and carried three dead bodies to a police car. "I can't explain to you the tragic situation," he said.
Another witness, Tariq Mustapha, said that he had just left the park when he heard an explosion. He said his friend was still missing.
Footage broadcast on local television stations showed chaotic scenes in the park, with people running while carrying children and cradling the wounded in their laps.
A witness, not identified by name on Pakistan's Geo TV station, said he was heading toward a fairground ride with his wife and two children when he heard a huge bang and all four of them were thrown to the floor. A woman was shown crying while looking desperately for her missing 5-year-old son.
A spokesman for the U.S. National Security Council said that the United States "condemns the attack in the strongest terms," describing it as a "cowardly act in what has long been a scenic and placid park." Ned Price said the U.S. would continue to work with Pakistan and its partners to "root out the scourge of terrorism."
Vikas Swarup, spokesman for India's External Affairs ministry, tweeted that Prime Minister Narendra Modi telephoned Pakistani premier Nawaz Sharif to express his deep condolences. He said Modi "underlined the need for uncompromising efforts to fight against terrorism."
Story: Zarar Khan / Associated Press