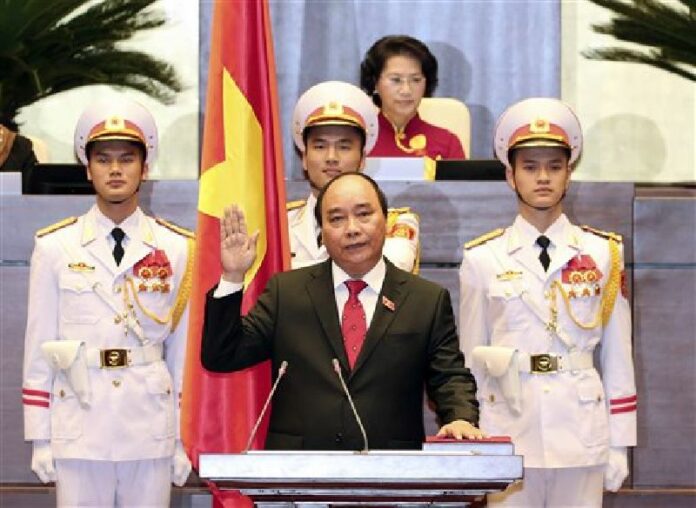 HANOI, Vietnam — Vietnam's rubber-stamp parliament on Thursday elected Nguyen Xuan Phuc as prime minister, and he takes office at a time of soaring public debt, a worrying budget deficit and China's growing assertiveness in nearby seas.
In a formal vote, 446 of the 490 members in the National Assembly voted to install Phuc, 61, as the head of government.
The appointment of Phuc, who rose from governor of the central province of Quang Nam to deputy prime minister five years ago, was a mere formality after he was picked at the Communist Party's congress in January as the sole candidate to replace Nguyen Tan Dung, who was removed from office Wednesday.
Phuc took the oath of office and vowed "absolute loyalty to the country, people and the Constitution."
In a televised inaugural speech, Phuc vowed to continue with reforms and fight corruption.
He raised his voice when pledged to "firmly defend the country's independence, sovereignty and territorial integrity."
Phuc takes office at a time when the country is crippled with soaring public debt, a serious budget deficit, China's territorial assertiveness in the South China Sea, as well as an unprecedented drought and salt intrusion in the country's main rice-growing region of the southern Mekong Delta.
"Mr. Phuc will begin his tenure when the economy has been in big trouble," Le Hong Hiep, a visiting fellow at Singapore's Institute of Southeast Asian Studies, said in an email.
"He will have to overcome major challenges to reform the state-owned sector and banking system, improve the country's fiscal position, and strengthen the private sector to make the economy less dependent on foreign investments," Hiep said.
Phuc's appointment completes the triumvirate of power, which includes General Secretary Nguyen Phu Trong who was re-elected at the party congress in January and President Tran Dai Quang who was elected by the assembly last week.
Nguyen Quang A, an economist and political analyst, said the trend of reforms and international integration in Vietnam will not be stopped regardless of who is in power.
"No one can delay or derail the international integration, that is the only way for the country's survival."
International rights groups and U.S. government have often criticized Vietnam for jailing people who peacefully express their views, by using vaguely worded security laws. Hanoi says that only law breakers are punished.
The sentencing of seven bloggers and activists in March for "abusing democratic freedoms" and "spreading anti-state propaganda" drew strong opposition from the U.S. government and international rights groups.
"I don't think that Mr. Nguyen Xuan Phuc as the new prime minister will have a big role in improving Vietnam's human rights record," Quang A said, noting the country is ruled by collective leadership.
Story: Yves Damvan / Associated Press