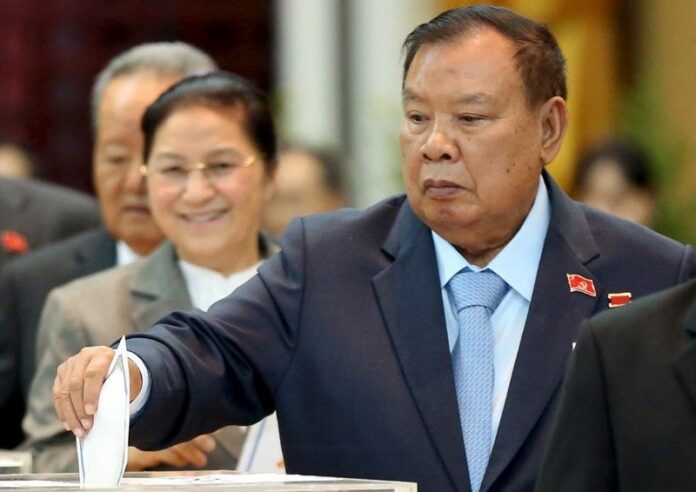 By Juarawee Kittisilpa
Reuters
VIENTIANE — Laos's National Assembly on Wednesday appointed Communist Party chief Bounnhang Vorachit as the country's new president and named foreign minister Thongloun Sisoulith as prime minister.
The picks are seen by many analysts as a continuation of the status quo in secretive Laos, where the communists have ruled since the end of the Vietnam War.
State television broadcast a meeting of the single-chamber National Assembly, at which lawmakers listed the virtues of Bounnhang, who was appointed Communist Party leader in January.
"The National Assembly has approved Bounnhang Vorachit as president, with more than two-thirds of the votes," said assembly chairwoman Pany Yathotou.
The 149-member assembly completed the process of nomination and voting for both candidates in around an hour.
In his acceptance speech, Bounnhang said he would strive for "peaceful international policies, unity, friendship and cooperation".
One of the fastest-growing economies in East Asia, landlocked Laos has averaged GDP growth of 7 percent over the past decade, with increasing use of natural resources contributing a third of output growth, the World Bank says.
This has boosted incomes and access to electricity, telecoms and healthcare for its mostly rural population of 6.7 million.
Laos has close political ties to communist Vietnam and mirrors its political system.
Communist neighbor China has been vying aggressively for influence in Laos, however, providing loans, aid and infrastructure investment.
Laos is still struggling to rid itself of the painful legacy of the Vietnam War, when it became the most heavily bombed country in history after the U.S. and its allies dropped about two million tons of ordnance from 1964 to 1973.
More than four decades on, the country grapples with millions of cluster munitions and other unexploded ordnance devices that kill and maim dozens each year.