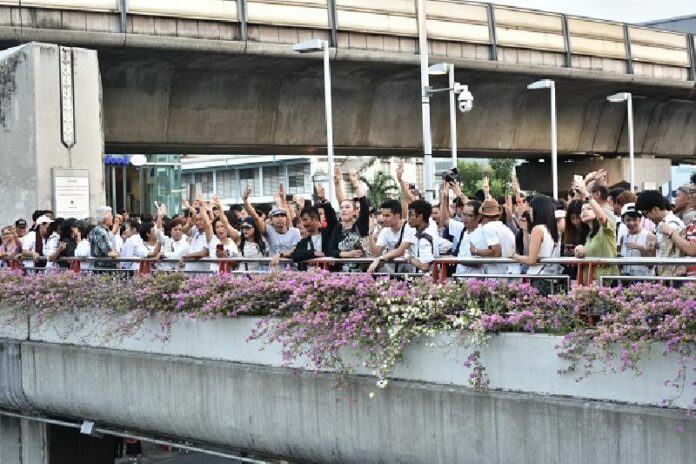 BANGKOK — Daily protests will be held calling for the release of a politician detained by the military, a group of activists said today.
Following their arrest at a demonstration on Tuesday evening, five members of activist group Resistant Citizen said they will gather at 6pm every day to demand the release of former Pheu Thai MP Watana Muangsook.
"It Watana is not released in the next few days, we will proceed to a full-scale approach. Our fellows from the other provinces will come to join," the group's Arnon Nampa, a human rights lawyer, announced at a Bangkok bookstore aligned with progressive causes.
---
Frustration Boils Over at Rare, Brief Protest
---
Similar to Tuesday evening's brief protest at which Arnon and four others were arrested and briefly detained, the daily protests will consist of people standing in a visible location to call attention to their complaints about the military's use of secret detention against its critics.
For Wednesday evening, he said, protesters will gather on the skywalk at BTS Chong Nonsi, and they are considering a larger protest for Friday.
Protesters light candles and sing in front of the Phaya Thai Police Station where five activists of Resistant Citizen were held Tuesday night in Bangkok
Watana turned himself into the junta Monday after he was summoned over stating his opposition to the proposed charter.
Arnon said he and the four other organizers were only held briefly because authorities knew they would come under criticism for arresting people exercising their rights. They were released at about 8pm, two hours after they were removed from the scene of Tuesday's protest.
"We did not sign any agreement with the military officers," he said. "And they did not force us to."
Arnon said their planned protests were intended to defend human rights, and that his group would do its part in protecting the public's right to voice either criticism or support of the draft charter.
Protesters stage a fake ballot in which they vote to reject the proposed constitution in a referendum in front of the Phaya Thai Police Station Tuesday night in Bangkok.
Related stories:
Frustration Boils Over at Rare, Brief Protest
Activists Promise Protest if Watana Not Released by Military