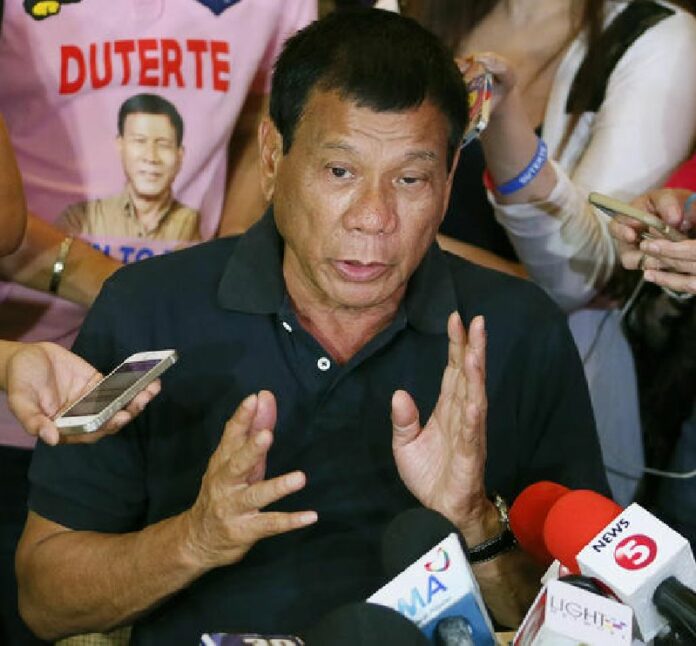 MANILA — Presumptive Philippine President-elect Rodrigo Duterte said Monday he will reimpose the death penalty, offer Cabinet posts to communist rebels, and move to amend the constitution to give more power to the provinces, in some of his first policy pronouncements since winning last week's election based on an unofficial count.
In his first formal news conference since the May 9 vote, Duterte also said he will launch a major military offensive to destroy Abu Sayyaf extremists on southern Jolo Island, even if their human rights are trampled in the process
The announcements, a sharp departure from current government policy, reflect his brash campaign pledge to end crime and corruption in the impoverished nation in three to six months. Police officials have said the plan is undoable, and that crime remains prevalent in Davao city, where Duterte has served as mayor for more than 22 years.
The military have been fighting a decades-long Marxist insurgency in the countryside.
Duterte said he would likely offer the Cabinet posts of environment and natural resources, agrarian reform, social welfare, and labor to the communist rebels.
"They are the most vigilant group in the Philippines about labor so they would get it," Duterte said.
The move would likely be strongly opposed by big business and industry.
Duterte said he would ask Congress to reimpose the death penalty, which has been suspended since 2006 in the face of staunch opposition from the dominant Roman Catholic church. Capital punishment by hanging, he said, should be imposed for heinous crimes, and criminals convicted of killing along with robbery and rape should be meted "double the hanging."
"After the first hanging, there will be another ceremony for the second time until the head is completely severed from the body," he said in the nationally televised news conference.
In a populist move, Duterte said he would sell the presidential yacht and use the money to buy medical equipment for military and police personnel.
"When people are hungry and jobless …it would be an obscene thing" to have the luxury vessel lying unused, he said.
Story: Teresa Cerojano / Associated Press
Related stories:
Tough-Talking Philippine Mayor Looks Set to be New President