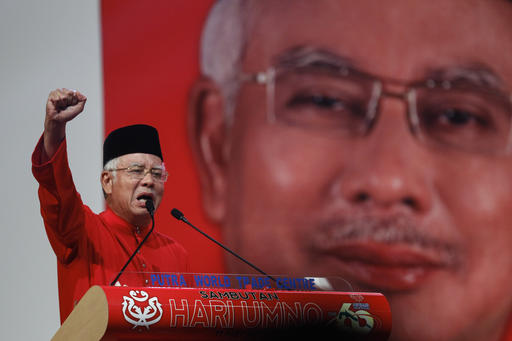 KUALA LUMPUR, Malaysia — A Malaysian security law that gives embattled Prime Minister Najib Razak sweeping emergency powers came into force Monday, with Amnesty International warning it could be used to trample on human rights.
Under the National Security Council Act, a council led by Najib, who faces pressure to resign over a financial scandal, can declare a state of emergency in areas deemed to be under a security threat. Security forces can impose curfews and have wide powers of arrest, search and seizure without a warrant.
The law is aimed at countering terrorism threats, but critics fear Najib will use it as a tool to hold on to power.
Amnesty said the law "empowers the Malaysian authorities to trample over human rights and act with impunity."
"With this new law, the government now has spurned checks and assumed potentially abusive powers," Josef Benedict, Amnesty's deputy director for South East Asia and the Pacific, said in a statement.
The human rights group said Najib and his government were increasingly resorting to repressive laws in the name of protecting national security "but in practice, imperil human rights."
The U.N. human rights regional office last week also said it was "gravely concerned" that the law may encourage human rights violations and lead to "unjust restrictions" on free speech and assembly.
Najib has been dogged for months by embezzlement investigations involving state investment fund 1MDB, which he founded in 2009. It is being investigated in several countries including the U.S., Switzerland and Singapore.
Last month, the U.S. Justice Department initiated action to seize $1.3 billion of assets that it said were part of a massive heist from 1MDB by people close to Najib.
The fund was created to promote economic development projects. Instead, U.S. prosecutors said fund officials diverted more than $3.5 billion through a web of shell companies and bank accounts abroad. The Justice Department complaint said more than $700 million of IMDB money was transferred into the bank account of Najib, who is referred to as Malaysian Official 1 in the document, contradicting his claim the money was a donation from the Saudi royal family.
The money taken from IMDB was used to pay for luxury properties in New York and California, a $35 million jet, art by Vincent Van Gogh and Claude Monet and helped finance the Hollywood film, "The Wolf of Wall Street," made by Red Granite Pictures headed by Najib's stepson, according to the DOJ complaint.
The U.S. forfeiture demand, the largest single action it's taken, are by far the biggest threat to Najib's credibility that could reinvigorate the opposition and ruling party members who are secretly opposed to him.
He has pledged to cooperate in the investigations and denied any wrongdoing. He remains firmly in political control of the country, after replacing his critics in the ruling party and the government with men loyal to him.
Najib has defended the new security law. He accused critics of fear-mongering and said last week that the terrorism threat was real and growing. Malaysian police have said a grenade blast at a bar last month that injured eight people was the first attack in the country by the Islamic State militant group. More than 160 people have been detained for suspected links to Islamic State over the past three years.
"My government will never apologize for placing the safety and security of the Malaysian people first. These laws were necessary, and other countries have since followed our lead," Najib said.