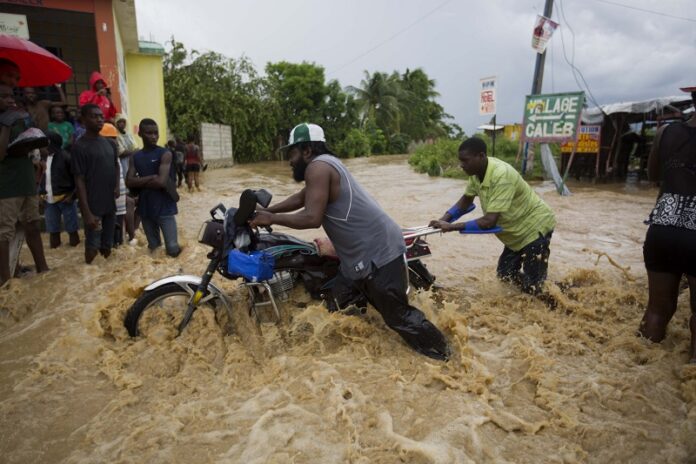 LES CAYES, Haiti — Two days after Hurricane Matthew rampaged across Haiti's remote southwestern peninsula with roaring winds and flooding rains, local authorities and international aid workers still lack a clear picture of the storm's destruction.
But the weather began calming Wednesday and a way was found around a key bridge that was washed away, allowing convoys and helicopters to start ventruing to marooned corners to assess the damage and determine how to help thousands of people who lost homes, livestock and crops.
The death toll was raised to 10 by Haiti's civil protection agency Wednesday evening, but the number was expected to tick upward as more hard-hit rural areas are reached Thursday and people tell their stories.
In Aquin, a south coast town outside the battered city of Les Cayes, people trudged through the mud around the wreckage of clapboard houses and tiny shops.
Cenita Leconte was one of many coastal residents who initially ignored official calls to evacuate vulnerable shacks before Matthew roared ashore at dawn Tuesday as a Category 4 hurricane. The 75-year-old is thankful she finally complied and made it through the terrifying ordeal with her life.
"We've lost everything we own. But it would have been our fault if we stayed here and died," she told The Associated Press as neighbors poked through wreckage hoping to find at least some of their meager possessions.
Marie Alta Jean-Baptiste, head of the civil protection agency, said authorities were starting to get a better view of the situation in the Grande Anse department, where the storm made roads impassable and knocked out communications.
"We do know there's a lot of damage in the Grand Anse, and we also know human life has been lost there," Jean-Baptiste said, adding that the official death toll did not yet include reports from that severely raked area.
Civil aviation authorities reported counting 3,214 destroyed homes along the southern peninsula, where many families live in shacks with sheet metal roofs and don't always have the resources to escape harm's way.
The government has estimated at least 350,000 people need some kind of assistance after the disaster, which U.N. Deputy Special Representative for Haiti Mourad Wahba has called the country's worst humanitarian crisis since the devastating earthquake of 2010.
International aid groups are already appealing for donations to sustain a lengthy recovery effort in Haiti, the hemisphere's least developed and most aid-dependent nation.
In coming days, U.S. military personnel equipped with nine helicopters were expected to start arriving in the capital to help deliver food and water to hard-hit areas.
Jean-Michel Vigreux, the country director in Haiti for the non-profit group CARE, said the lack of communication with people in the Grande Anse region was deeply worrisome.
"We don't know the exact impact yet. We currently aren't able to communicate with our team in one region, Grande Anse. It is very scary," he said.
As answers were slow to come, some Haitians were convinced their troubled homeland was largely spared the kind of human suffering that severe weather has wrought in the past.
"It seems like Haiti dodged a bullet. The news on the radio doesn't seem nearly as bad as it could have been," upholsterer Daniel Wesley said as he walked down a rain-slicked street in downtown Port-au-Prince.
The last Category 4 storm to pound Haiti was Hurricane Flora in 1963, which killed as many as 8,000 people.
In nearby Cuba, Matthew blew across that island's sparsely populated eastern tip, destroying dozens of homes and damaging hundreds in the island's easternmost city, Baracoa. But nearly 380,000 people were evacuated and strong measures were taken to protect communities and infrastructure, U.N. officials said.
Early Thursday, Matthew was churning through the Bahamas on a path forecast to take it close to the U.S. East Coast, where authorities were pursuing large-scale evacuations.
Story: Pierre Richard Luxama, David McFadden