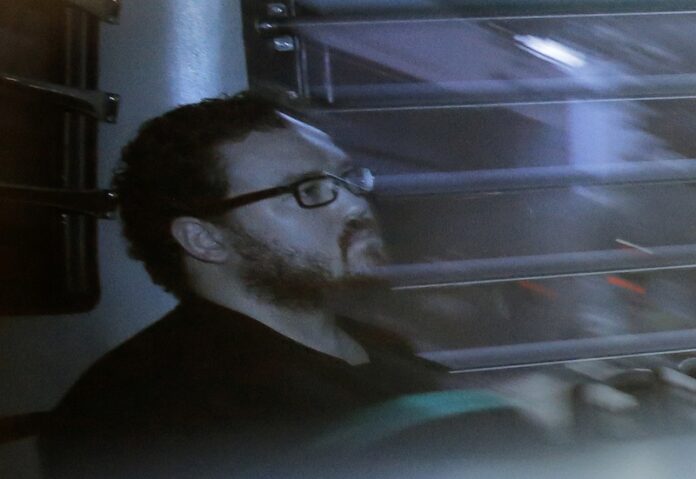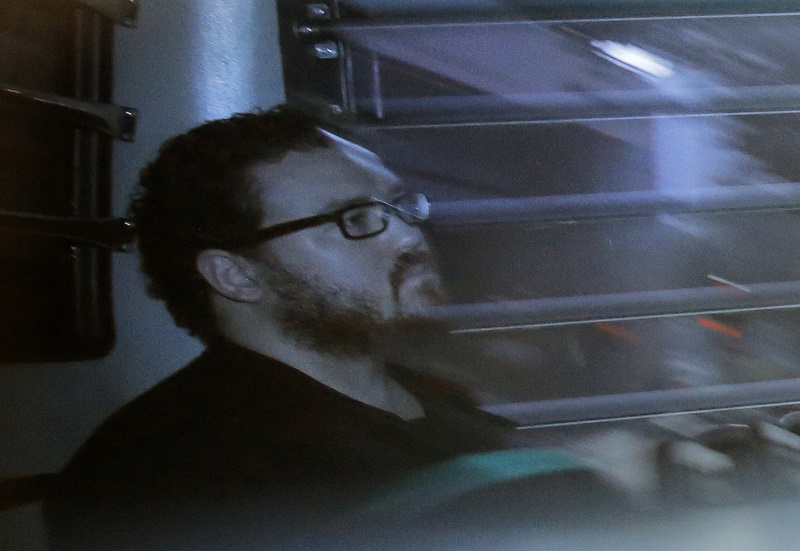 HONG KONG — A jury in Hong Kong watched chilling video Tuesday of a British banker describing how he tortured and killed an Indonesian woman he met in a bar, saying he repeatedly raped her and "tortured her badly."
In the video he shot, Rurik Jutting, a Cambridge University graduate on trial in Hong Kong's High Court for the murder of two Indonesian women, can be seen shirtless in his apartment.
"My name is Rurik Jutting. About five minutes ago I just killed, murdered, this woman here," he says into the camera. He also pointed the camera down briefly to show the body of Sumarti Ningsih, 23, lying face down in a bathroom.
Moments later he holds up his hand, which can be seen shaking.
"It's Monday night. I've held her captive since early Saturday, I've raped her repeatedly, I tortured her, tortured her badly."
He rambles on to the camera in several video clips, talking about doing cocaine and using prostitutes, in Hong Kong and the Philippines.
Jutting, 31, watched the video from the glass-screened dock, at times looking down at a transcript of the video in front of him. He wore a pale blue shirt and appeared much slimmer than court appearances last year.
The graphic video was shown on the second day of Jutting's trial for murdering Sumarti and Seneng Mujiasih, 26.
Their bodies were found in his upscale apartment near the Asian financial center's Wan Chai red-light district in 2014 in a case that shocked the city, which has a reputation for being safe but also has extreme inequality among its foreign workers. The former British colony has a sizable white-collar expatriate elite alongside more than 300,000 migrant domestic workers, almost all of them women from Indonesia or the Philippines.
Earlier, the jurors were played about 20 minutes of video in which Jutting is apparently torturing Sumarti. The media and public could not view it, but were able to hear the audio.
At one point he can be heard saying: "If you scream I will punish you. Understand?"
That is followed by the sound of smacking and slapping.
Jutting, who worked in the Hong Kong office of Bank of America-Merrill Lynch in structured equity finance and trading, pleaded not guilty Monday to two murder charges, with prosecutors rejecting his attempt to plead guilty to the lesser charge of manslaughter. If convicted, he faces life in prison.
At the start of the trial, Judge Michael Stuart-Moore warned jurors that the evidence would include "extremely upsetting" photo and video evidence.
Prosecutor John Reading said in his opening remarks that Sumarti, who was in Hong Kong on a tourist visa, had gone to Jutting's apartment when the banker offered her "a large sum of money,"
After she died, Jutting put her remains in a suitcase he left on the balcony.
Seneng was officially in Hong Kong as a foreign maid but was working at a bar where Jutting met her and offered her money for sex, Reading said, according to facts agreed on by both sides. In the banker's apartment, Seneng started shouting when she saw a rope gag near the sofa, and Jutting grabbed her and cut her throat with a knife hidden under a cushion, the prosecutor said.
Jutting apparently started hallucinating after using cocaine, and he called police himself. Officers who arrived found Seneng's body and arrested Jutting. Sumarti's remains were found a few hours later. In interviews, Jutting told police everything that happened as well as discussing his drug use, Reading said, adding that traces of cocaine were detected in more than two dozen small plastic bags found in the apartment.
Story: Kelvin Chan