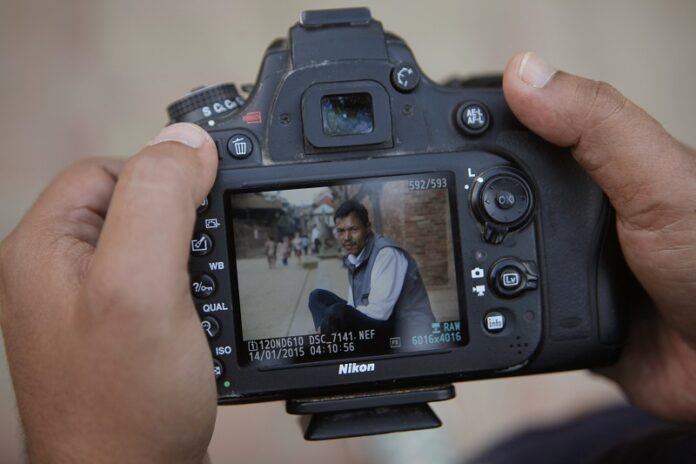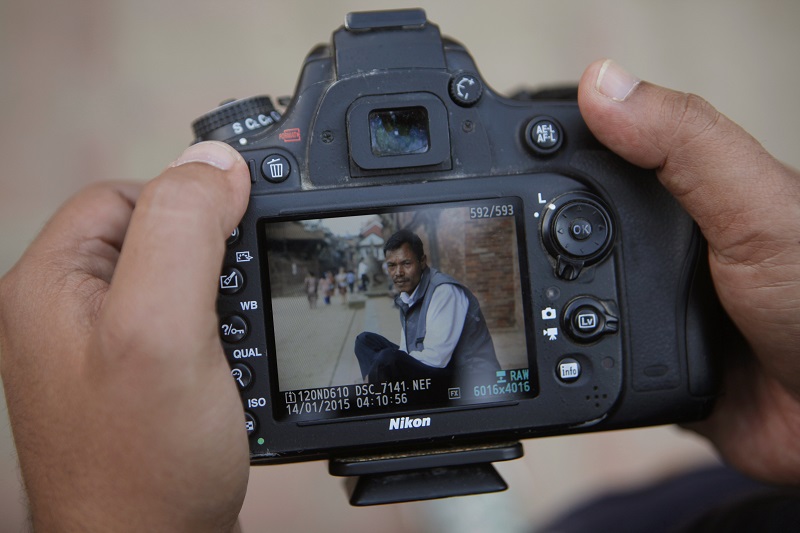 KATHMANDU, Nepal — It started with a photograph of a smirking, young man wearing a heavy-metal band T-shirt and selling tea on the streets of Kathmandu. It has become a wildly popular blog chronicling street life in the Himalayan nation of Nepal.
Inspired by the similar project "Humans of New York ," Nepalese photographer Jay Poudyal has posted biographies and photographs for more than 800 Nepalis including villagers, bureaucrats, schoolchildren, housewives and students since launching his blog three years ago.
"Stories of Nepal ," with 270,000 followers and growing, has become a mission for the 37-year-old college dropout: to highlight the heroism of Nepal's common men and women as they struggle against widespread poverty, natural disasters and a government widely seen as corrupt.
"I was searching for purpose of life," Poudyal said in an interview with The Associated Press, admitting to past struggles with alcohol and drug abuse. "When I started doing this, it was like a calling for me."
Each morning, Poudyal takes to the streets of his native Kathmandu to chat with people, share jokes or heart-wrenching memories, and snap their photos. Occasionally, he'll drive his motorcycle to a nearby village, or take a bus to a community farther out along Nepal's mountain roads.
The blog has led to some freelance photography work, which he said gives him enough income to get by and still focus on the blog.
"I really love the freedom," he said. "When you plan something, you are limiting the possibilities. But when you are just walking, when you are keeping yourself very open, there is so much that comes in which you are not expecting."
Poudyal tries to make more than half of his stories about women. That's in line with his goal of giving a voice to the most marginalized in Nepal, a mostly patriarchal society best known as the home of Mount Everest.
For one story, posted last week, Poudyal photographed a man he came upon sitting alone in a crowded Kathmandu square surrounded by old palaces and temples. They spoke for an hour, with the photographer recording the man's tale of how he missed his wife, who had died three years earlier and left him to raise their four children.
Later, Poudyal met truck driver in a narrow stone-paved alley, and heard about how he had just been shopping for new clothes for his family. The man, smiling wide and holding up a bag of rice he had purchased, said he was heading home with the gifts before a Hindu festival celebration.
"When I am listening to the stories, I go into that emotional space, and the struggle, the pain, suffering or the happiness, hopes and aspirations, it sort of also becomes mine," Poudyal said. "Sometimes I am laughing with the person who is telling me a story, sometimes we are both crying."
But hearing so many stories of woe sometimes takes its toll, even in a country that has endured a bloody communist insurgency, a massacre inside the royal palace, the abolition of a centuries-old monarchy, and most recently, a devastating set of earthquakes that killed thousands in 2015.
"I don't think I have leant the art of detachment yet," Poudyal said. "At times I don't want to go out of the house, and I just want to draw the curtains and just do nothing."
Then he watches the news and sees how it subverts individual people into the generalized narrative, and feels compelled to go out again and tell their stories.
"I feel like it is my responsibility to somehow bring out these stories of these individuals that failed to reach mainstream media," he said.
The son of a jewelry trader, Poudyal and his two brothers and two sisters grew up in a middle-class neighborhood of Kathmandu. His struggles with alcohol began when he was a teenager. He later spent four years attending a college inThailand before dropping out without a degree.
He went to Australia, searching for something to do, but instead reached a low point in drug and alcohol abuse and depression. He recalled begging in the streets of Melbourne for money to buy cheap wine.
He returned to Nepal in 2009, got a job as a graphic artist for an advertising agency and got married to his girlfriend of many years. But his depression only got worse.
"I drove in my scooter and I wanted to jump off a cliff and end it all, but something stopped me," he said. Instead, he rode home crying and told his wife he needed help, leading him to spend three months in drug rehabilitation at a clinic in the Nepalese capital.
A few months after finishing rehab, he started "Stories of Nepal" in October 2013.
As its popularity grew, he also used the blog to raise funds for some he had photographed. He managed to raise USD $14,000 to help the eastern village of Ghumthang recover from the 2015 earthquake by buying food and medicine, building temporary shelters and a primary school. A year later, he raised about USD $700 in two hours for a girl's mother who lost the family's savings when the quake started a fire that destroyed everything inside her stone hut.
The project has brought him praise from around the world. One 73-year-old follower named Doug Hall, from Chichester, New Hampshire, said Poudyal's work gave outsiders a sense "of life in the early 21st century in Nepal."
"One is better able to understand the pain of women left behind when their husbands emigrate for jobs, of the pride in small accomplishments, of the emotional toll of caste discrimination, of the beauty of childhood friendships," Hall said in an email to the AP.
Another follower, airline pilot Pratistha Karki from Kathmandu, said the blog was inspiring.
"When the only people to have media space are celebrities and politicians … 'Stories of Nepal' has let an everyday Nepali participate in the major Nepali discourse," Karki said.
Story: Binaj Gurubacharya