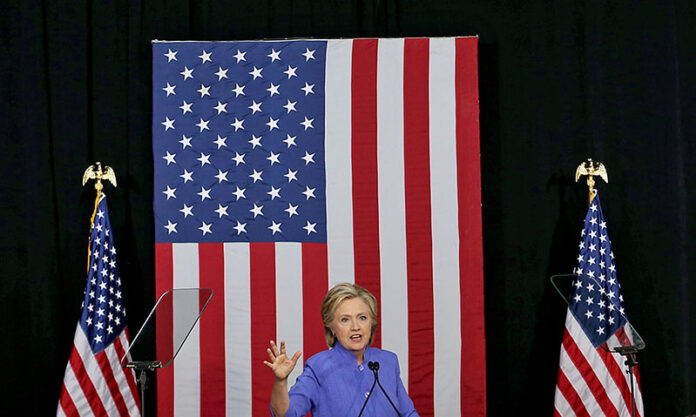 KENT, Ohio — Hillary Clinton forcefully challenged the FBI's new email inquiry Monday, declaring during a campaign rally in battleground Ohio, "There's no case here."
Clinton's comments were her most pointed yet on the subject, and they underscored her campaign's decision to fight back aggressively against FBI Director James Comey.
On Friday — just over a week from Election Day — Comey alerted Congress that the FBI has obtained new material that may be related to its dormant investigation into whether classified information passed through Clinton's private email server while she served as secretary of state.
The FBI plans to review the emails to see if they contain classified information and if so, whether they were handled properly. The Justice Department said Monday it would "dedicate all necessary resources" to concluding the review promptly.
Clinton accused the FBI of having jumped into the election "with no evidence of any wrongdoing with just days to go." She said that if the bureau wants to look at the emails, which appear tied to her longtime aide Huma Abedin, "by all means, they should look at them."
But she insisted the FBI would reach the same conclusion it did earlier this year, when it declined to recommend Clinton and her advisers face charges for how they handled classified information.
"They said it wasn't even a close call," she said. "I think most people have decided a long time ago what they think about all of this."
The investigation appears to center on a laptop belonging to Anthony Weiner, the disgraced former congressman and Abedin's estranged husband. It's unclear whether the material on the device was from Clinton. It's also not known if the emails in question are new or duplicates of the thousands the former secretary of state and her aides have already turned over.
In another sign of the Clinton campaign's escalating feud with Comey, her advisers leapt on a CNBC report that the director opposed releasing information close to Election Day about Russian interference in the White House race. Campaign manager Robby Mook called the report evidence of a "blatant double standard."
The AP has not confirmed that report, and the FBI declined to comment on it Monday.
Intelligence agencies have linked Russia to the hacking of Democratic groups during the campaign. Clinton has charged the Kremlin is trying to tilt the election in favor of Donald Trump and has questioned the Republican's financial ties to Russia.
The Obama administration delayed for weeks formally blaming Russia because of sensitive negotiations that were taking place with Moscow at the time over Syria, according to people familiar with the investigation. They spoke on condition of anonymity because they were not authorized to speak publicly about the hackings, which were investigated as counterintelligence cases.
Even hawkish officials within the Justice Department who were urging an announcement blaming Russia did not object to waiting for those negotiations to conclude. When the Syria talks collapsed in failure, the Office of the Director of National Intelligence and the Homeland Security Department released a joint statement accusing Russia of the hacking.
Clinton's advisers were stunned by Comey's decision to publicly alert Congress that the bureau had new information that could be pertinent to its initial email investigation. Comey's letter to lawmakers was short on detail, infuriating the Clinton campaign, which accused him of leaving the situation open to inaccurate interpretations.
Trump has seized on the FBI review, gleeful over getting a new opportunity to hammer Clinton's trustworthiness and perhaps change the trajectory of a race that appeared to be slipping away from him.
On Monday, Clinton tried to refocus the contest on Trump as she opened the final full week of campaigning with a rally at Kent State University. She's blasted Trump at length for being unfit to serve as commander in chief, bringing together several of the charges she has leveled against him throughout the campaign.
Speaking in serious tones, Clinton warned at length about putting Trump in control of the nation's nuclear stockpiles. She accused him of talking "casually" about nuclear war and wondered whether he knows "that a single nuclear warhead can kill millions of people."
Clinton's message was amplified by Bruce Blair, a former intercontinental ballistic missile launch control officer. Blair said he would "live in constant fear" of Trump making a bad call about nuclear weapons if he were still a launch officer.
Clinton's blistering warnings about Trump's preparedness for the Oval Office were an attempt to refocus the choice in front of voters after a rough stretch for her campaign. Her team has long accepted that many voters simply don't trust the former secretary of state, but they believe she is viewed as more qualified than Trump to be president — an assertion backed up by many public opinion polls.
Democrats have robustly rallied around Clinton, including black and Hispanic lawmakers. During a Congressional Black Caucus news conference on Saturday, Rep. Gregory Meeks suggested Comey might be trying to affect the election results.
"Don't hide in silence," Meeks said. "Don't be the one that's trying to sway an election 10 days beforehand. The American people deserve and we want to know in its entirety what the emails are and what you are investigating."
Story: Julie Pace. Additional reporting Catherine Lucey, Ted Bridis