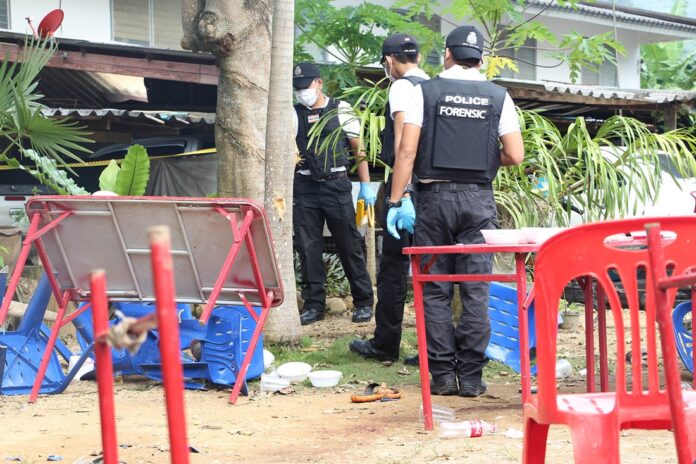 YALA — A policeman accused of a shooting rampage that killed two officers and wounded 16 others in the southern border province of Yala is now behind bars and awaiting trial, police said Monday.
Cpl. Hassapol Soprakon surrendered Friday, three days after he allegedly opened fire with an assault rifle on fellow police officers at the Batutamong Police Station. Hassapol, 28, blamed the killings on stress due to his hardship post in the restive province, according to investigator Bancha Sangkhapet.
"He confessed to every count," Maj. Bancha, who worked with Hassapol, said by telephone. "He said he did it because he was stressed."
Read: Manhunt Continues for Cop-Killing Policeman in Yala
Hassapol has been charged with murder and attempted murder. He is currently being held in a Yala prison, his bail was denied by the criminal court.
The corporal will be expelled from the force while the criminal case against him proceeds, Bancha said.
Armed with an M16 rifle he retrieved from the armory, Hassapol reportedly opened fire Tuesday night on policemen and their families as they were eating and drinking together in the police station's garden. The shooting killed two officers and wounded 16 others, including four civilians.
After a manhunt was launched, Hassapol turned himself in Friday, bringing the weapon he allegedly used in the rampage, investigator Bancha said.
According to his peers, Hassapol became increasingly distraught after his supervisors refused his request to move out of Yala, where separatists often stage attacks on police and military.
More than 6,500 people are believed to have died in Yala and its neighboring provinces since secessionist violence broke out in early 2004.