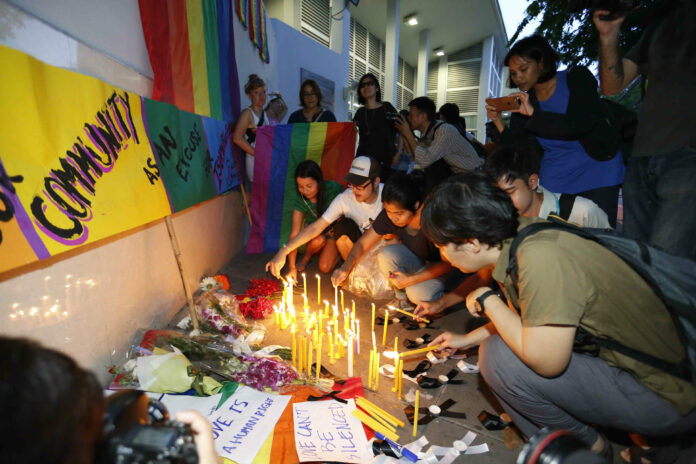 UNITED NATIONS — African nations are seeking to initially suspend and then get rid of the first U.N. independent expert charged with investigating violence and discrimination based on sexual orientation and gender identity.
Botswana's U.N. Ambassador Charles Ntwaagae said Friday that African nations want the General Assembly to delay consideration of a Human Rights Council resolution adopted on June 30 that authorized the appointment of an expert to monitor LGBT rights in order to discuss "the legality of the creation of this mandate."
Ntwaagae told the 193-member world body that a General Assembly resolution introduced by African nations seeking a delay also calls for suspending the activities of the first expert, Vitit Muntarbhorn of Thailand, pending a determination of the legality.
The resolution is expected to be put to a vote on Tuesday.
The Human Rights Council resolution establishing the LGBT expert was adopted by a vote of 23-18 with 6 abstentions, reflecting the deep divisions internationally on gay rights.
The U.N. has worked to improve the rights of the LGBT community in recent years but has repeatedly run into opposition from some member states – especially from countries in the Middle East and Africa as well as China and Russia. According to a U.N. human rights report last year, at least 76 countries retain laws used to criminalize and harass people on the basis of their sexual orientation and gender identity or expression, including laws criminalizing consensual same-sex relationships among adults.
Ntwaagae said African nations "are alarmed" that the Human Rights Council is delving into national matters and attempting to focus on people "on the grounds of their sexual interests and behaviors, while ignoring that intolerance and discrimination regrettably exist in various parts of the world, be it on the basis of color, race, sex or religion, to mention only a few."
African nations are also concerned that sexual orientation and gender identity are being given attention "to the detriment of issues of paramount importance such as the right to development and the racism agenda," he said.
Ntwaagae said African countries want to stress that sexual orientation and gender identity "are not and should not be linked to existing international human rights instruments."
Muntarbhorn, a law professor who has been on the council's Commission of Inquiry on Syria and previously served as U.N. special investigator on North Korea and on child prostitution and child pornography, was given a wide mandate by the Human Rights Council for three years.
It includes looking at ways to overcome violence and discrimination against people on the basis of sexual orientation or gender identity, addressing the root causes, and working with states to protect lesbian, gay, bisexual and transgender people.
U.S. Deputy Ambassador Sarah Mendelson expressed deep concern at the African resolution, telling the assembly that the Human Rights Council has approved numerous resolutions on people experiencing violence and discrimination, including those belonging to minority groups.
Mendelson said the African measure would have the General Assembly re-open a Human Rights Council mandate for the first time and could undermine the council's ability to function.
She urged the assembly to support an amendment expected to be introduced by Latin American and Caribbean nations that would remove the African call to delay the Human Rights Council resolution and suspend Muntarbhorn.
Francesca Cardona, speaking on behalf of the European Union, stressed that countries must "protect the human rights of all individuals without distinction of any kind."
She said any attempt to call into question the legitimacy of the council resolution establishing the independent expert to protect against violence and discrimination based on sexual orientation and gender identity "has no legal foundation."
Story: Edith Lederer