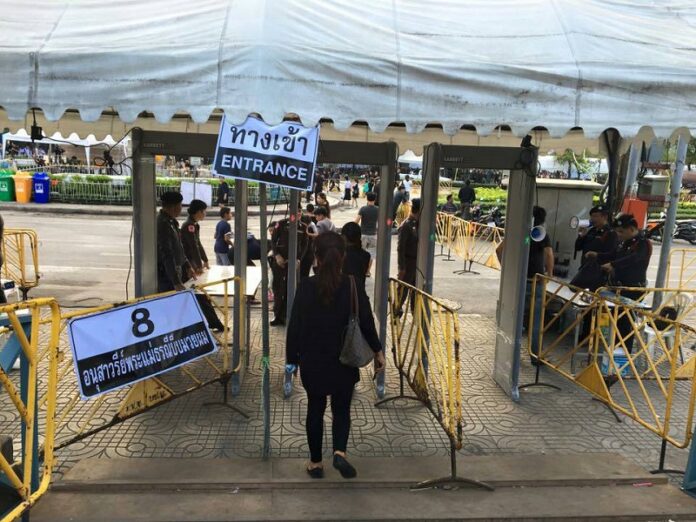 BANGKOK — As homeless people were being evicted from Sanam Luang, the center of mourning for the death of His Majesty King Bhumibol Adulyadej, a veteran activist assisting homeless people urged the government and the general public to rethink, be more understanding and not exclude them from the area.
The plea came as the Social Welfare Ministry and the Bangkok Metropolitan Administration removed homeless people Thursday night from Sanam Luang. Entering the inside of Sanam Luang is also now subjected to one being in possession of a valid ID card or passport.
Natee Issarachon, secretary general of Issarachon Foundation which provides free food and other assistance to homeless people said Saturday that most homeless people are automatically excluded because they have no ID cards.
"All people are subjects of His Majesty the King and have the right to be close to the king's remains. Everyone has the right to express their loyalty, regardless of whether or not they are physically clean or dirty. To bar them from the area is not the way of His Majesty, as the King considered everyone to be like his children," Natee said on the phone.
The activist added that most homeless people know how to conduct themselves and are no longer sleeping in the area as they know it is being used for public mourning.
Natee added that homeless people still return to the surrounding areas around Sanam Luang for free food as well as to collect empty plastic water bottle for sale. They should continue to be allowed to do so and enter through security check-points, Natee said. He suggested the authorities give them some black t-shirts and enlist them to help clear up daily rubbish instead of trying to chase them away.
He insisted that a number of poor people who come to collect free food in excess amount from various booths are not homeless but from urban poor communities in Bangkok.
Natee defended homeless people, saying they were not involved in the half dozen cases of pick-pocketing reported in the area over the past three weeks.
"Homeless people have been accused of various things including being a nuisance and a danger. I insist that this is not true. Don't look at them with disdain. Don't think of them as trouble-makers,"  Natee urged.