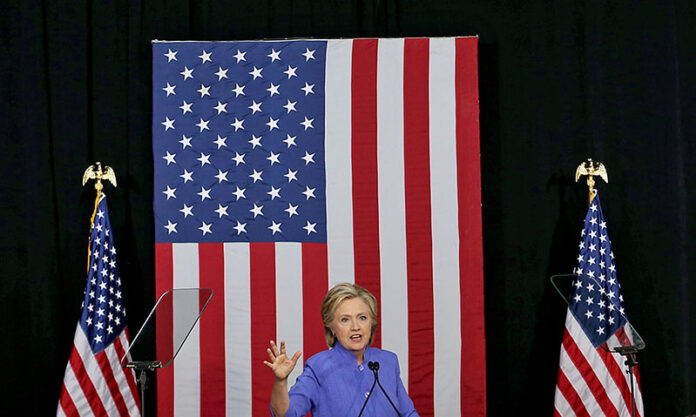 WASHINGTON — FBI Director James Comey told Congress in a letter sent Sunday that a review of newly discovered Hillary Clinton emails has "not changed our conclusions" from earlier this year that she should not face charges.
Sent just two days before Election Day, the letter appeared to resolve any lingering ambiguity over the prospect that the Democratic presidential nominee could yet face a criminal indictment over her use of a private email sever as secretary of state.
"Based on our review, we have not changed our conclusions that we expressed in July with respect to Secretary Clinton," Comey wrote to congressional leaders, less than two weeks after first telling them about a cache of newly found emails that investigators thought might be pertinent to their investigation.
But the letter left unresolved other questions, including the content and number of new emails, and how many of the messages investigators reviewed were duplicates of emails they had already seen.
"The growing number of unanswered questions demand explanations," Sen. Charles Grassley of Iowa, the Republican chairman of the Senate Judiciary Committee, said in a statement.
A senior law enforcement official, who spoke on condition of anonymity to discuss internal decision-making, said the letter was intended to reflect a conclusion to the email review and not merely a status update.
The letter also drew fresh criticism from lawmakers who said the new email review, announced in a vague letter to Congress on Oct. 28, shouldn't have been made public so close to the election and created unnecessary suspicion.
"Today's letter makes Director Comey's actions nine days ago even more troubling. There's no doubt that it created a false impression about the nature of the agency's inquiry," Sen. Dianne Feinstein, D-Calif., said.
Republican presidential nominee Donald Trump said Clinton was being protected by a "rigged system" and pronounced her "guilty," notwithstanding the FBI's conclusion.
The FBI had been under pressure to reveal additional details about its new email review following Comey's abrupt disclosure on Oct. 28 that the bureau had discovered emails that were potentially relevant to the Clinton investigation.
The emails were found on the computer of Anthony Weiner, the disgraced congressman and estranged husband of Clinton aide Huma Abedin. Weiner is under investigation by federal authorities for online communications he had with a 15-year-old girl.
Upon discovering emails thought to be potentially pertinent to the Clinton email investigation, Comey advised Congress that investigators would review the messages to see whether they were classified. The FBI subsequently obtained a warrant to begin the process of going through the emails.
That disclosure, made over the objections of the Justice Department, roiled the presidential race in its final days and revived an issue that the Clinton campaign thought had ended over the summer when the investigation closed without charges.
In July, the FBI chief chastised Clinton for her use of a private mail server but said the bureau would not recommend criminal charges against the Democratic presidential nominee or her aides. The Justice Department accepted that recommendation.
In his letter to Congress on Sunday, Comey said the FBI had reviewed all new emails to and from Clinton and that nothing had changed its July conclusion. But the letter did not address how the messages wound up on Weiner's computer and what, if anything, the announcement means for Abedin.
Abedin's attorney, Karen Dunn, has said Abedin learned from media reports about the possibility that her emails had been found on a laptop belonging to Weiner.
Comey has already said that investigators found classified emails on Clinton's server, and that although Clinton and her aides had been "extremely careless" in their handling of classified information, there was no evidence that anyone had willfully broken the law.
The new email review did not automatically increase the chances that anyone was in renewed danger of criminal prosecution, even if additional classified messages were found.
"We were always confident nothing would cause the July decision to be revisited. Now Director Comey has confirmed it," Clinton campaign spokesman Brian Fallon said Sunday on Twitter.
Story: Eric Tucker