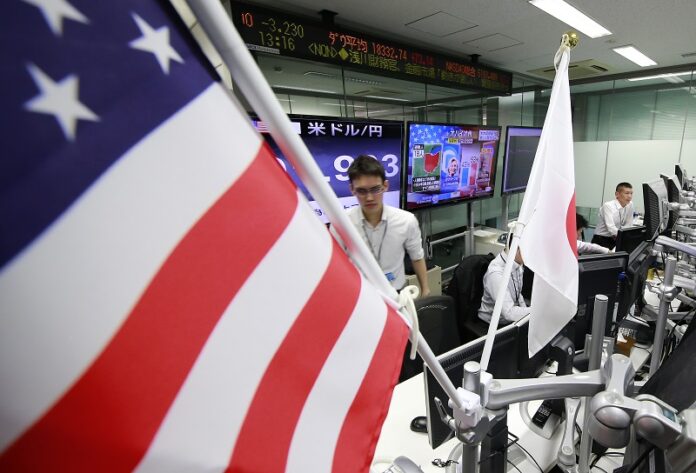 HONG KONG — The rising prospect of a Trump presidency jolted markets around the world Wednesday, sending Dow futures and Asian stock prices sharply lower as investors panicked over uncertainties on trade, immigration and geopolitical tensions.
At one point, Dow futures plunged more than 4 percent and Japan's major index nosedived more than 6.1 percent, its largest drop in years. The Mexican peso likewise tumbled and investors looking for safe assets bid up the price of gold.
During the campaign, Trump threatened to rip up trade deals like the North American Free Trade Agreement. He pledged to greatly restrict immigration to the U.S and to build a wall along the United States' southern border and force Mexico to pay for it.
But the lack of clear policy details has left many worldwide uneasy over the future direction of the U.S. economy. Share prices began tumbling as soon as Trump first gained the lead in the electoral vote count.
As of 1:00 a.m. EST (0600 GMT), Trump had taken 244 electoral votes to Hillary Clinton's 215. It takes a minimum 270 votes to win.
Pricing in a possible Trump victory and presaging a gloomy Wednesday on Wall Street, Dow futures were down 3.7 percent or 679 points at 17,612.00 and S&P futures had dropped 4.4 percent to 2,041.70.
The Federal Reserve had been considered all but sure to raise interest rates at its next meeting in mid-December, reflecting a strengthened U.S. economy. But a Trump victory could make a rate hike less likely — especially if financial markets remain under pressure.
Trump's strong talk on trade also has left many in Asia deeply worried.
"This is going to work as a strong headwind for the economy," said Tomoyuki Ota, a senior economist at Mizuho Research Institute in Tokyo. He said a Trump victory could stifle spending during the critical year-end and Christmas shopping season.
Top officials from Japan's central bank and finance ministry were to meet later Wednesday to discuss how to cope with the gyrations in financial markets. The Nikkei 225 stock index closed 5.4 percent lower, recouping some losses, at 16,251.54.
Elsewhere in Asia, Hong Kong's Hang Seng slumped 2.7 percent to 22,294.38 and South Korea's Kospi shed 2.4 percent to 1,955.11. The Shanghai Composite index fell 0.2 percent to 3,141.87 and Australia's S&P ASX/200 in sank 1.9 percent to 5,156.60.
Given Trump's stance on NAFTA and immigration, economists have said the Mexican economy could fall into a contraction if he wins. As results emerged Wednesday, the Mexican peso swooned 11.5 percent to 20.73 pesos to the dollar.
The price of gold, seen as a safe place for investors' money in times of uncertainty, was up 3.7 percent, at USD $1,321.40 an ounce.
The election uncertainty also jolted currency markets, sending investors fleeing from the dollar. The greenback plunged 3.5 percent to 101.22 yen from 105.46 earlier in the day. The euro rose to USD $1.1233 from USD $1.1020.
Energy markets were also roiled. Benchmark U.S. crude futures lost USD $1.26, or 2.7 percent, to USD $43.74 a barrel in electronic trading on the New York Mercantile Exchange. The contract rose 9 cents to close at USD $44.98 a barrel on Thursday. Brent crude, used to price international oils, slid USD $1.07, or 2.4 percent, to USD $44.96 a barrel in London.
Story: Kelvin Chan