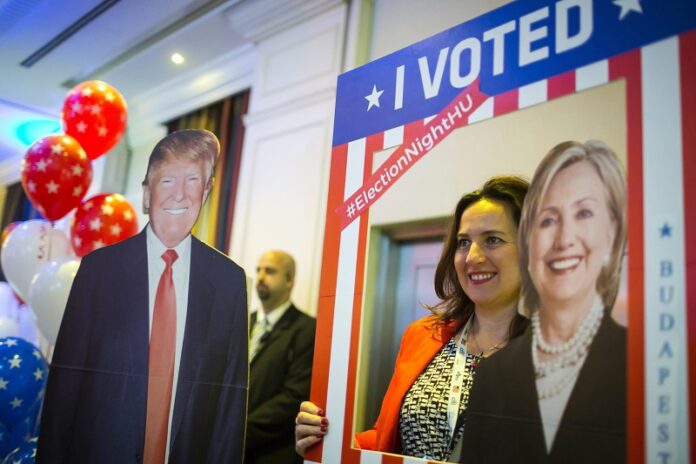 WASHINGTON — Americans bid goodbye with their ballots Tuesday to a presidential campaign of venom, audacity and history, choosing between Hillary Clinton and Donald Trump in a contest that divided the nation like none other in recent times.
In early results, Trump the Republican and Clinton the Democrat scored in their expected strongholds, fought fiercely in Florida and left the contours of the night to be shaped by battlegrounds to come.
Clinton appeared to have more paths to the prize as she sought to become the first woman elected president; Trump appeared to tighten the race in the campaign's final days. Both left multitudes of Americans dissatisfied with their choices.
The struggle over whom to support was voiced by two voters in Independence, Missouri, after casting their ballots.
"I had such a hard time, harder than I've ever had," said Joyce Dayhill, 59, a school bus driver who "reluctantly" voted for Trump. "I just prayed on it as hard as I could and felt this was the right decision."
Said Clinton voter Richard Clevenger, 58: "I think Trump's not stable. But I can't say there was really anything Hillary's shown me that made me feel like voting for her. But Trump just doesn't know what the hell he's doing, and he's surrounded by the Mickey Mouse Club."
The first states to be decided Tuesday night produced expected results: Kentucky, Indiana, Oklahoma, West Virginia, South Carolina and Tennessee went for Trump; Vermont, Massachusetts, Maryland, New Jersey, Delaware and the District of Columbia for Clinton. Closer races shaped up in Florida and several other battlegrounds. Virginia defied an early call.
In a later wave, Trump added Texas, Kansas and more to his column while Clinton took New York and Illinois, each reaping significant gains in the contest for 270 electoral votes but shy of a tipping-point victory, with plenty of states ahead.
Control of the Senate also hung in the balance on a night that was reshaping the political calculus in Washington, a dozen governors' offices and statehouses.
Voters Say…
In preliminary surveys of voters leaving polling places, about 4 in 10 said the top quality they're looking for in a candidate is change. That outranks good judgment, the right experience and caring about people like you as the preferred qualities in a president.
Just over half approve of the job President Barack Obama is doing. But a majority is still upset with the way the government is working.
Clinton Vs. Trump
The two New Yorkers pounded each other relentlessly, each preaching that the other is wholly unqualified, as the race tightened in the final days after a persistent if elastic lead for Clinton, the Democrat, in preference polling. Those who dreamed of Bernie Sanders for the Democratic ticket or anyone but Trump for Republicans face their time of reckoning. Will they come home to their party or just stay home?
Clinton, inheritor of Obama's vaunted campaign apparatus and a skillful (and well-financed) organizer in her own right, fielded an impressive professional and volunteer operation. She had big names on the stage, loads of people tracking down supporters and getting them to early-voting places, committed and well-heeled interest groups behind her and lots of money for sustained advertising.
Trump's effort paled in comparison, seeming as unpolished and improvised as the candidate himself. What he had that she didn't were the pulse and the passion of huge crowds, day after day.
To those in Trump country, no boastful, stomach-turning video about women, no "lock-her-up" insult from the stage, no toxic tweet in the wee hours, could peel them away from the man whose crudities only made him more authentic in their eyes. To many of the Republicans who didn't come to the rallies — and to some of the lawmakers who faced the prospect of working with him in Washington — he was a disaster, a Republican Titanic sailing alongside Clinton's Democratic Lusitania. To the country at large, and much of the world, he polarized, repelled, entertained, shocked and fascinated.
Did that make Clinton less of a divisive figure?
Not to the Republicans who are already itching to impeach her if she wins.
Story: Calvin Woodward