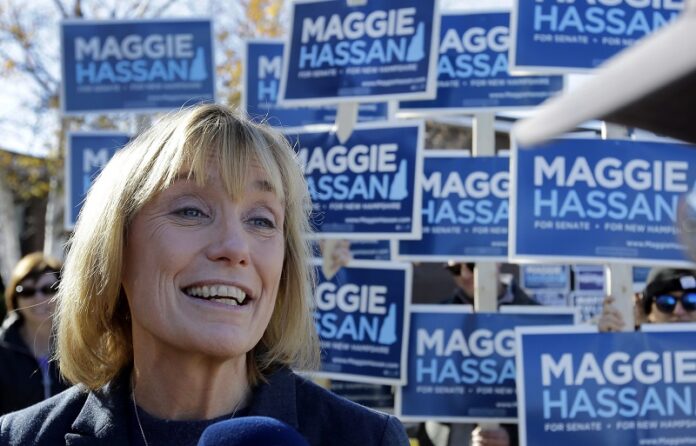 WASHINGTON — Democrats grabbed a Republican-held seat in Illinois on Tuesday as they fought to retake control of the Senate from the GOP. But Republicans held onto seats in Indiana and Florida, and several other key races were too close to call.
In Illinois, GOP Sen. Mark Kirk had long been considered the most endangered Republican incumbent, as he faced a strong challenger in a state that favors Democrats in presidential election years. His opponent, Democratic Rep. Tammy Duckworth, is a double-amputee Iraq war veteran with a compelling personal story.
In Indiana, GOP Rep. Todd Young beat former Democratic senator and governor Evan Bayh, who mounted a much-ballyhooed comeback bid, but wilted under scrutiny.
And in Florida, GOP Sen. Marco Rubio beat Democratic Rep. Patrick Murphy, giving Rubio a platform from which he could mount another bid for president in 2020. The outcome was not unexpected since Murphy had been abandoned by his own party in the final weeks of the campaign, but polls had tightened heading into Election Day.
But with several other races too close to call, control of the Senate depended on outcomes in North Carolina, Missouri, New Hampshire and elsewhere as the night wore on.
In New York, meanwhile, Sen. Chuck Schumer, the Democrats' leader-in-waiting for a new Congress, easily won re-election. Results elsewhere would tell if Schumer leads a Democratic majority in the Senate next year, or a minority when he replaces retiring Nevada Sen. Harry Reid in the leader's role.
The outcomes came as GOP incumbents around the country faced energized Democratic challengers trying to oust them in costly and caustic battles shadowed every step of the way by the polarizing presidential race between Republican Donald Trump and Democrat Hillary Clinton.
In GOP-held North Carolina, Missouri and New Hampshire, it looked like it could go either way as voting progressed. The races were also close in Pennsylvania and Nevada, the one Democratic-held seat that was hotly contested this election.
Republicans hold a 54-46 majority in the Senate, including two independent senators who caucus with the Democrats. That means Democrats need to pick up just four seats to take the majority if Clinton wins the White House and can send her vice president to cast tie-breaking votes in a 50-50 Senate. Democrats would need to pick up five seats if Trump wins.
The GOP retook the majority just two years ago. And even though control of the Senate is likely to be razor-thin whichever party ends up on top, the advantages of being in the majority are significant. The controlling party holds the committee chairmanships, sets the legislative agenda and runs investigations. First up is likely to be a nominee to fill the vacancy on the Supreme Court.
Democrats were counting on two likely pick-ups in Wisconsin and Illinois, though in Wisconsin polls tightened in recent weeks in favor of GOP Sen. Ron Johnson.
Reid was retiring after five terms and trying to engineer a Democratic successor. Democrats were optimistic that a strong Latino vote, and Republican hopeful Rep. Joe Heck's stumbles with Trump, would keep Nevada in their column.
North Carolina and Missouri, on the other hand, were two GOP-friendly states that turned unexpectedly competitive as incumbent Republican Sens. Richard Burr and Roy Blunt seemed caught unawares by the nation's restless mood.
Throughout the campaign the Senate races provided moments of drama, not least as GOP candidates grappled with sharing a ticket with Trump. That tripped up Sen. Kelly Ayotte in New Hampshire after she asserted at one point that Trump could "absolutely" be a role model for the nation's youth.
In Nevada, Heck un-endorsed Trump to boos after the groping audio, but later seemed to backtrack. He ended the campaign refusing to say whether or not he'd vote for Trump. Pennsylvania GOP Sen. Pat Toomey, too, kept voters in suspense until the 11th hour before disclosing late Tuesday that he voted for Trump.
There were poignant moments, too.
Arizona GOP Sen. John McCain, at age 80, was seeking his sixth term in quite possibly his final campaign. The 2008 GOP presidential nominee, expected to be re-elected without much difficulty despite early predictions of a competitive race, struck a reflective note in a final pre-election rally.
"While as Yogi Berra said, 'I hate to make predictions, especially about the future,' I'm not sure how many more I have in me," McCain said.
Democratic Sen. Patrick Leahy of Vermont, the longest-serving sitting senator, was re-elected easily to an eighth term. Democrats held onto an open seat in Maryland, where Democratic Rep. Chris Van Hollen will replace the longest-serving female senator, Democrat Barbara Mikulski, who retired.
Story: Erica Werner