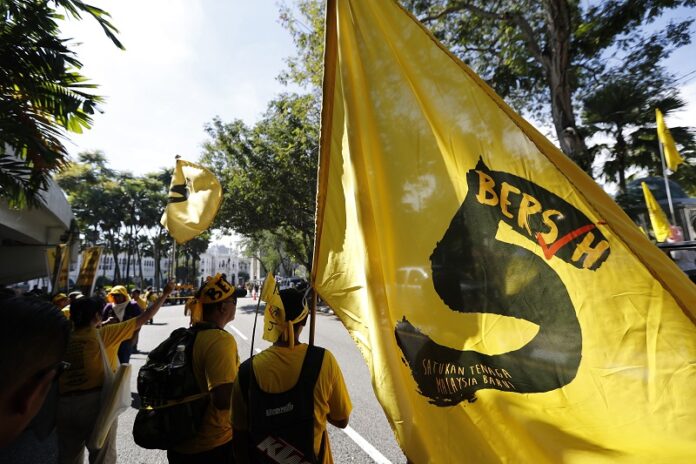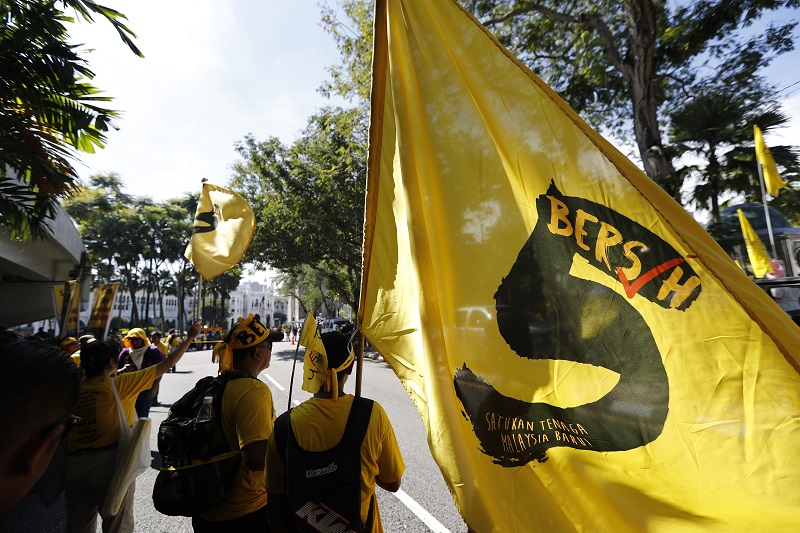 KUALA LUMPUR — Malaysian police detained 12 activists and tightened security ahead of a rally Saturday by electoral reform group Bersih seeking Prime Minister Najib Razak's resignation over a financial scandal.
Police barricaded key roads in downtown Kuala Lumpur and put water-cannon trucks on standby, but it did not stop protesters who began trickling in. Some were chanting "Save Democracy" and "Bersih, Bersih"— which means "clean" in the Malay language.
The protesters were gathering at several meeting points and plan to march on Independent Square, the main venue that was locked down.
Bersih said on Twitter that police raided its office on Friday and detained its chairwoman Maria Chin and another official Mandeep Singh. It said at least seven others including several politicians have also been held. It said police also confiscated laptops, mobile phones and bank statements.
"Despite the authorities' desperate measures to stop us, (the rally) will go on," the group tweeted.
Lawyer Melissa Sasidaran said Chin was being held for "activities detrimental to parliamentary democracy" and Singh for alleged rioting. She said a student leader and three politicians had also been detained.
Ruling party politician Jamal Mohamad Yunos, who planned to lead a counter rally, also was detained with two other anti-Bersih activists, Jamal's group said in a statement.
Both the rallies have been banned amid fears of a clash between Bersih's yellow shirt supporters and Jamal's red shirt group.
Najib, who is attending an Asia-Pacific summit in Lima, Peru, has kept an iron grip since graft allegations emerged two years ago involving the indebted 1MDB state fund that he founded. 1MDB is at the center of investigations in the U.S. and several other countries.
A rally that Bersih organized in August 2015 also demanding Najib's resignation brought together 50,000 people, according to police estimates. Bersih said the number was much higher.
Najib, who has denied any wrongdoing, has said he won't be cowed by the rallies.
In a statement on his blog, Najib called Bersih "deceitful" and said it has become a tool for opposition parties to unseat a democratically elected government.
Human rights group Amnesty International slammed the crackdown and called for the immediate release of the Bersih activists, describing them as prisoners of conscience.
"These arrests are the latest in a series of crude and heavy-handed attempts to intimidate Malaysian civil society activists and other human rights defenders," Amnesty said in a statement.
The investigations into 1MDB fund are centered on allegations of a global embezzlement and money-laundering scheme. Najib started the fund shortly after taking office in 2009 to promote economic development projects, but the fund accumulated billions in debt over the years.
The U.S. Justice Department said that at least $3.5 billion had been stolen from 1MDB by people close to Najib and initiated action in July to seize $1.3 billion it said was taken from the fund to buy assets in the U.S.
The U.S. government complaints also said that more than $700 million had landed in the accounts of "Malaysian Official 1." They did not name the official, but appear to be referring to Najib.
Story: Eileen Ng