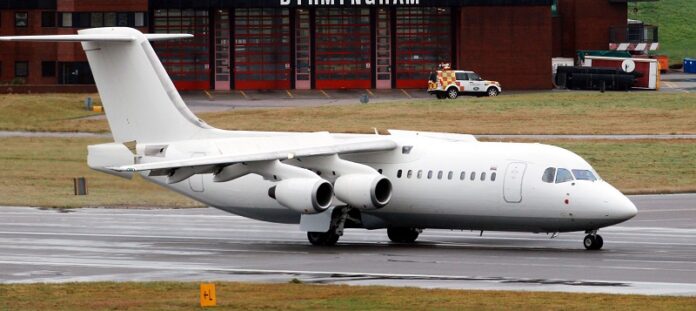 LONDON — The plane that crashed near Medellin, Colombia, is a short-haul aircraft that was used to land in hard-to-access airports and frequently flew soccer teams across South America.
Among the 75 people reported to have been killed in the crash Monday night of the 17-year-old plane, which was part of the British Aerospace 146 stable of aircraft, were members of the Chapecoense soccer team from Brazil.
The same plane that crashed is said to have earlier this month ferried world soccer player of the year Lionel Messi and his Argentina team from Brazil to Buenos Aires between World Cup qualifier matches.
Built and sold in 1999, it was part of the stable of British Aerospace 146, or BAE 146, planes. BAE 146s and the related Avro RJ models – of which the crashed plane was one of – can have a range of about 1,700 nautical miles (1,955 miles, 3,150 kilometers,) according to David Dorman, a spokesman for BAE.
LaMia, the Bolivian operator of the crashed plane, said on its website – which has since become inaccessible – that its three BAE 146s had a maximum range of around 2,965 kilometers. That's about the same as the distance between Santa Cruz, Bolivia, and Medellin, the route the plane was flying when it went down. The range is not rigid and is dependent on a plane's payload and fuel.
Colombia's aviation authority said initial reports suggest the aircraft was suffering from electrical problems, although investigators were also looking into an account from one of the survivors that the plane ran out of fuel about five minutes from its expected landing at the Jose Maria Cordova airport outside Medellin.
Because they can take a steep approach to landing, the BAE 146 fleet can use very short runways. It has four jet engines suspended from a wing affixed to the top of the plane and typically does not carry much more than 100 passengers.
British Aerospace, which became BAE Systems in 1999, introduced the BAE 146 in 1981 and ended production in 2003 for economic reasons. A little under 400 of the fleet were built, and around 220 remain in service. Major clients have included British Airways, Swiss and Ireland's CityJet.
Civil aviation authorities in Bolivia, where Monday's flight originated, said LaMia got started as an airline promoting tourism in the city of Merida, Venezuela. But with the decline of the Venezuelan economy, it re-established itself in Bolivia, where in November 2015 it was granted permission to operate charter and cargo flights.
Several South American soccer teams have recently chartered flights from LaMia, including Atletico Nacional, the team Chapecoense were to play in a cup final on Wednesday.
Argentina's state news agency said the plane that crashed had earlier been used to transport Messi and the Argentina national team earlier in November. The aircraft has also reportedly transported Venezuela's national squad and several top teams from Bolivia.
Over the years, the model of plane has been configured for uses other than hauling passengers, including as tankers to put out forest fires. Around 30 of the original BAE 146s were built as freighters.
According to Dorman, 22 of the remaining fleet have been converted into firefighting roles, with more likely in coming years. Prominent operators include Canada's Conair and Neptune Aviation Services.
"It's a demonstration of the aircraft's ability to fly in difficult terrain," Dorman said.
The most notable crash involving the plane was in December 1987, when a Pacific Southwest Airlines flight from Los Angeles to San Francisco was hijacked by David Burke, a disgruntled ex-employee of USAir, which had recently bought Pacific. Burke is said to have shot the two pilots and three others. The plane subsequently crashed in Cayucos, California. All 43 people on board died, including Burke.
The last deadly crash involving the plane occurred in 2009, when a BAE 146 operated by Indonesia's Aviastar Mandiri struck a hill while attempting to land in the eastern Papua province. All six onboard were killed.
Most recently, in April 2014, a BAE 146 carrying 97 people made an emergency landing shortly after takeoff from Perth, western Australia, after one of its engines caught fire. No one was injured.
BAE is responsible for checking the planes' airworthiness and for engineering support.
The U.K. Aircraft Accidents Investigation Branch said it is sending a team to Colombia to assist local authorities with their investigation, since Britain is listed as the "state of manufacture" for the plane.