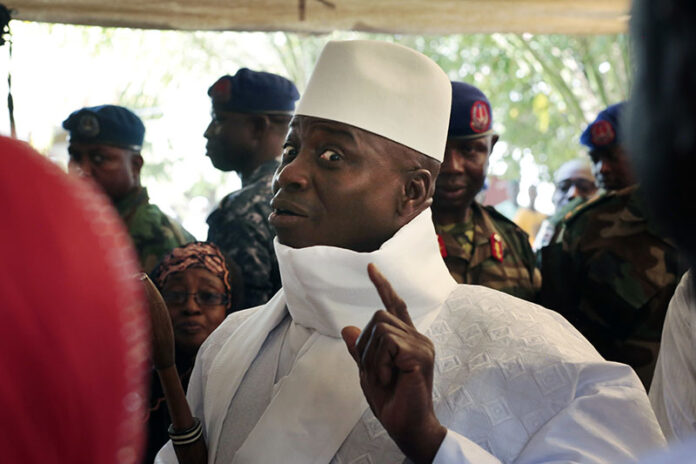 DAKAR, Senegal — Gambia's ruler of more than 22 years announced late Friday that he no longer accepts defeat in the country's presidential election, reversing course a week after he conceded to his rival.
In a speech on state television, President Yahya Jammeh said that investigations since the Dec. 1 vote have revealed a number of voting irregularities that he called unacceptable.
"I hereby reject the results in totality," he said in his address that aired late Friday. "Let me repeat: I will not accept the results based on what has happened."
Only one week ago, a jovial Jammeh was filmed on state television calling opposition candidate Adama Barrow to wish him the best.
"You are the elected president of The Gambia, and I wish you all the best," Jammeh told Barrow at the time. "I have no ill will."
The dramatic about-face was certain to spark outrage among the opposition and the tens of thousands of Gambians living in exile abroad. Already in the week since Jammeh had been defeated, several dozen political prisoners had been released on bail.
"We are deeply concerned by reports of belated objections to the Gambian election results raised by President Jammeh," said Babatunde Olugboji, deputy program director at Human Rights Watch. "The international community, notably (regional bloc) ECOWAS and the African Union, should loudly protest any unlawful attempt to subvert the will of the Gambian people."
The U.S. government also condemned Jammeh's rejection of the election result, calling it an attempt to remain in power illegitimately.
"The people have spoken and it is time for Gambians to come together to ensure a peaceful transition to President-elect Barrow," said State Department spokesman Mark Toner in a statement.
It remained unclear whether the tiny country of 1.9 million people would accept Jammeh's continued rule. As news spread last week of his defeat, Gambians took to the streets — singing, dancing and shouting "Freedom!"
Under Jammeh's rule, the country surrounded almost entirely by Senegal has become notorious for its abysmal human rights record as well as the president's erratic behavior.
The Jammeh regime has long been accused of imprisoning, torturing and killing its opponents, according to human rights groups. He also has issued increasingly virulent statements against sexual minorities, vowing to slit the throats of gay men.
In 2007, Jammeh claimed to have developed a cure for AIDS that involved an herbal body rub and bananas. Alarming public health experts, he insisted patients stop taking antiretroviral medications so his remedy could have an effect.
He also has increasingly isolated Gambia, whose economy has long been dependent on tourism. In 2013 he exited the Commonwealth, a group made up mostly of former British colonies, branding it a "neo-colonial institution." And in October, Jammeh said Gambia would leave the International Criminal Court, which he dismissed as the 'International Caucasian Court.'"
In his speech Friday, Jammeh said some figures in the results had been transposed and that voter turnout had been suppressed.
"Our investigations reveal that in some cases voters were told that the opposition has already won and that there was no need for them to vote and, out of anger, some of them returned home," he said.