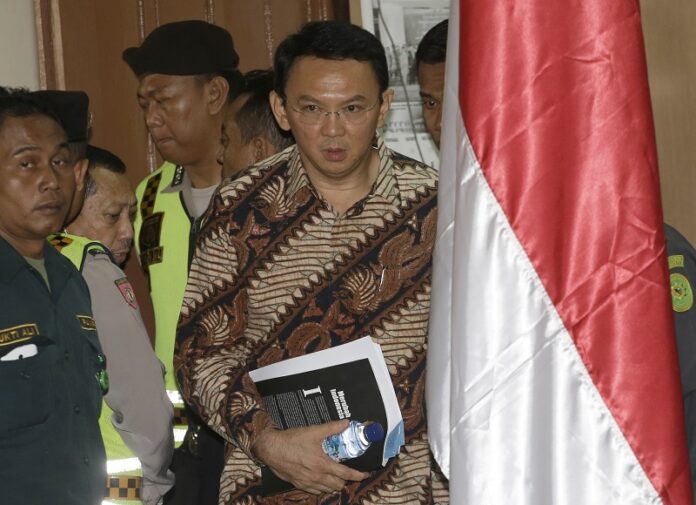 JAKARTA — The minority Christian governor of Indonesia's capital sobbed in court Tuesday on the first day of his blasphemy trial as he recalled the role of Muslim godparents in his childhood and said he would never intentionally insult Islam.
The national upheaval over the governor's alleged blasphemy has challenged Indonesia's reputation for practicing a moderate form of Islam, shaken the government and exposed religious and racial fault lines in the world's most populous Muslim nation.
Protests against Gov. Basuki "Ahok" Tjahaja Purnama, led by hard-liners and which drew hundreds of thousands of people, have kept Jakarta, the capital, on edge in the past six weeks. A Nov. 4 protest there turned violent, with one death and dozens of police and protesters injured.
Ahok, an ally of President Joko "Jokowi" Widodo, faces up to five years in prison if found guilty. He is the first ethnic Chinese governor of Jakarta and the first Christian in more than half a century.
"As a person who grew up among Muslims, it is not possible for me to intentionally insult Islam because that is the same as disrespecting the people I appreciate and love," Ahok said.
He broke down in tears twice while making his statement, in which he talked about the affection of his godparents and remembered how he helped poor Indonesians perform the Hajj pilgrimage when he was a district chief a decade ago.
The blasphemy controversy erupted in September when a video circulated online in which Ahok lightheartedly said that people were being deceived if they believed his detractors who asserted that the Quran prohibits Muslims from having a non-Muslim leader. He is seeking a second term as governor in elections due in February.
State Prosecutor Ali Mukartono told the court that Ahok insulted Islam and desecrated the Quran by using one of its verses to fool people and boost his chances of winning the Jakarta election.
In his statement, Ahok said that his comments were not an interpretation of the Quran and that he was only referring to certain politicians "who exploited the verses incorrectly because they do not want to compete fairly in the election competition."
Several hundred members of anti- and pro-Ahok groups gathered outside the court, but were kept apart by police. The trial, which is being broadcast live, could take two to three months.
Ahok's lawyers asked the five-judge panel to throw the case out and the trial was then adjourned until Dec. 20.
Police investigators and religious experts were divided about whether Ahok should be prosecuted, but the case proceeded as political pressure on the government mounted.
Story: Tatan Syuflana, Stephen Wright