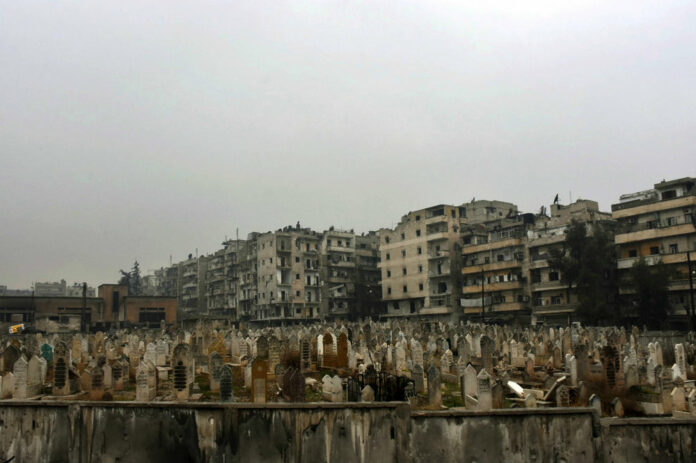 BEIRUT — First came the distress calls from doctors in underground shelters and morgues. Then residents under relentless bombardment in the few remaining blocks under rebel control in Aleppo began posting emotional goodbyes on social media and in widely circulated messages.
They wanted to have the final say in the merciless civil war.
"There is a problem with this planet," said Monther Etaky, a 28-year old graphic designer. "This planet doesn't want people to live as free or to live as humans."
The world's view of the Syria conflict has been largely driven by YouTube, Twitter and Facebook— making it one of the world's most documented wars through amateur videos and coverage. This has given the activists a major role in chronicling the war, and in lobbying for the world's response.
Nearly six years into the conflict, they complained the world has been looking the other way.
"Why is this silence? People are being eliminated," tweeted Abdulkafi Alhamdo, an English teacher who has been a vocal critic of President Bashar Assad's government. Then, he wrote: "The last (message). Thanks for Everything. We shared many moments. The last tweets were from an emotional father. Farewell #Aleppo."
Alhamdo later went live on the video-streaming Periscope to say government troops were approaching. "I hope you can remember us," he said.
A local aid worker, who gave only his first name, Omar, sent an emotional recorded message that was widely shared on Whatsapp.
"The government forces are at the end of the street. Forgive us," he said in issuing a tormented apology for failing to protect the rebel enclave, once seen as the jewel of Syria's rebellion.
After four years of holding onto nearly half of what was once Syria's largest city and commercial center, thousands of residents of rebel-held Aleppo had been cornered in a one-square-mile sliver of land for days as Syrian government troops, backed by Russia, resisted calls for a cease-fire, pushing into the territory as rebel defenses crumbled.
Hospitals were knocked out and civil defense vehicles were bombed. Thousands of residents fled to government areas, but thousands more, likely die-hard government opponents, squeezed with the rebels into the ever-shrinking enclave.
Etaky said the fast buckling of rebel defenses shocked him at first.
"But when I turned on my brain and thought about what is happening and the cause of what is happening, I knew," he said.
After months of siege imposed since July the rebels had no more power to go on, he said. With their families trapped in the city with them, many fighters left the front lines to tend to their relatives' safety.
But most importantly, he said, "it was the world silence."
Etaky said that as a witness of the grueling war, he thought he had become numbed by the violence years earlier. Since moving to the rebel-held sector in 2012, he said he had lost about 50 friends.
"When I was saying the last goodbyes, this was the first time I was affected because it was the last time," he said.
He said he was proud of his role in documenting the war. There was no record, he said, of previous Syrian government crackdowns, including in the 1980s in Hama and Aleppo.
"If my son grows up and just explores the internet he can see his father, and what he was documenting and be proud that his father was a hero," Etaky said, choking back tears.
Speaking to the Associated Press shortly after a cease-fire was announced late Tuesday, he added: "It is quiet in Aleppo right now. And it looks so sad to be saying goodbye to its residents, who will leave it forever."
Story: Sarah El Deeb