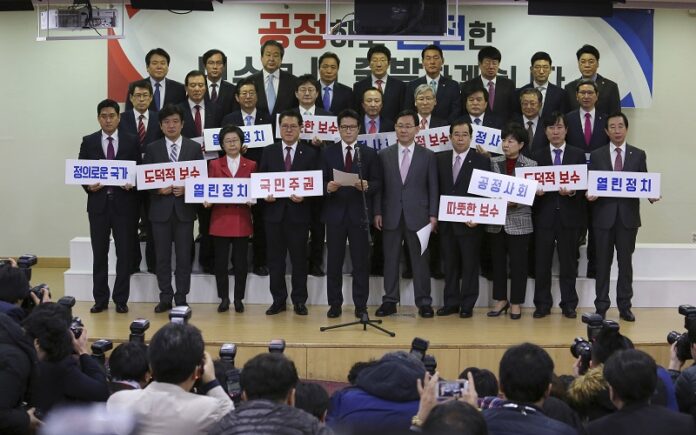 SEOUL, South Korea — Dozens of lawmakers split from South Korea's ruling party Tuesday over the corruption scandal involving impeached President Park Geun-hye in a move that could shape presidential elections that might take place in just months.
The 29 anti-Park lawmakers who left the Saenuri Party planned to create a new conservative party that will likely try to lure outgoing United Nations Secretary-General Ban Ki-moon as its presidential candidate. There's a possibility of more lawmakers leaving Saenuri in coming weeks over rifts with Park loyalists who continue to occupy the party's leadership.
Choung Byoung-gug, one of the lawmakers who left Saenuri, accused the loyalists of "neglecting the values of real conservatism" and "shamelessly defending the infringement of constitutional values" as they continued to support the scandal-hit president.
The split came as investigators widened their inquiry into the scandal surrounding Park, who has been accused of colluding with a longtime confidante to extort money and favors from the country's biggest companies, and to allow the friend to manipulate government affairs.
The team led by special prosecutor Park Young-soo was planning to summon the president's jailed friend, Choi Soon-sil, on Tuesday afternoon, following their first interrogation of her on Saturday.
Ban is seen as the best hope for conservatives to win back the Blue House after Park's collapse complicated politics for her party. Recent opinion polls put Ban slightly ahead of liberal politician Moon Jae-in, who conceded the presidential race to Park four years ago, as the favorite to win a presidential vote.
In a recent meeting with South Korean reporters in New York, Ban said he was ready to "burn" his body in devotion for South Korea, his strongest hint yet that he would run for president.
South Korea's opposition-controlled parliament voted on Dec. 9 to impeach Park over the scandal that saw millions of people protest in recent weeks.
Story: Kim Tong-hyung