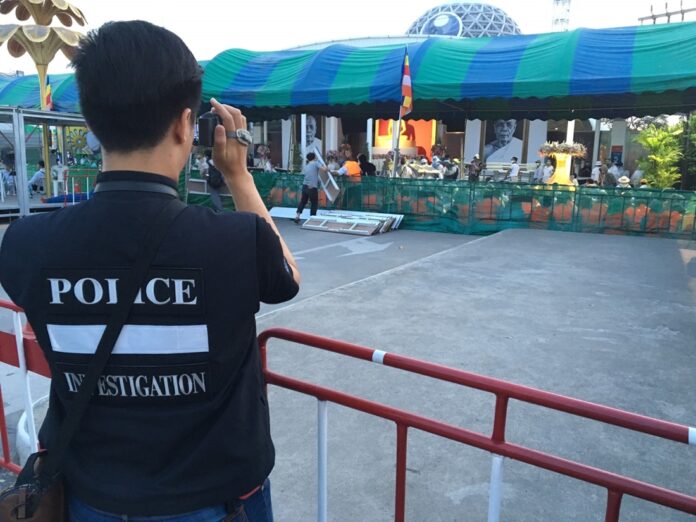 PATHUM THANI — Police began Tuesday morning clearing barricades blocking the entrance to the Wat Dhammakaya complex where they seek to arrest its abbot, who's accused of multi-million baht embezzlement.
Security forces have maintained a presence outside the large temple campus since June, when the 72-year-old Dhammachayo was charged with receiving donations that authorities said were money embezzled from a credit union. However, the official in charge of the investigation declined to say whether today's operation would culminate in raiding the temple and finding the abbot.
Watch: Khaosod Online's livestream from Wat Dhammakaya
Police will assess the situation and decide whether to enter Wat Dhammakaya, said Paisit Wongmuang, director of the Department of Special Investigation, or DSI.
Police spokesman Krissana Pattanacharoen said their priority is dismantling tents and barricades erected in front of the main gate to the temple complex.
"We are enforcing the law step by step," Col. Krissana said. "What can be done for now, we do it."
At the time of writing, police are said to be negotiating with the temple administration about the removal.
Dhammachayo is accused of receiving as donation some of 1.2 billion baht embezzlement from a credit union by its own executive, who is now serving a 16-year prison term. In November he was charged again with land encroachment for building a religious facility without a permit in Khao Yai National Park.
Through various representatives, the temple has said it believes the charges are politically motivated, and that Dhammachayo would not receive a fair trial in the courts.
Police have been unable to take him into custody because thousands of acolytes have gathered to defend the temple. Dhammachayo was last seen in public in May but is believed to remain inside. His aides maintained the abbot did not know the donations were tainted and was too ill to meet with police.
Although police officers have been posted about the temple for months, they have made no effort  to stop people from entering or leaving the complex. Government leaders also said they have refrained from taking a tougher action against the sect because they want to avoid bloodshed.
Related stories:
Dhammachayo Removed as Abbot of Dhammakaya
Dhammakaya Defies Order to Halt Broadcasts
Deadline for Dhammakaya Abbot to Surrender Expires, Again
Renewed Bid to Capture Dhammakaya Abbot Weighed
A Look Inside the Besieged Wat Dhammakaya