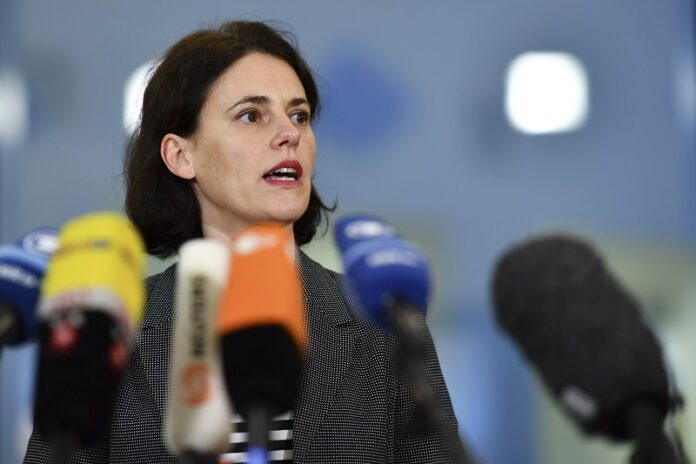 BERLIN — An acquaintance of suspected Berlin Christmas market attacker Anis Amri who dined with him the night before the rampage is under investigation for possible participation in planning the attack, German prosecutors said Wednesday. He was arrested, but in a separate case.
The 26-year-old Tunisian had known Amri since the end of 2015 and the pair ate together at a Berlin restaurant the night before the Dec. 19 attack, said Frauke Koehler, a spokeswoman for federal prosecutors. His quarters at a refugee home were searched on Tuesday.
The pair's meeting led prosecutors to believe that the man may have been involved in the attack or at least knew that Amri planned to commit one, Koehler said. She said that "communications devices" seized in Tuesday's search are being evaluated, but federal prosecutors do not currently have enough evidence to seek an arrest warrant against him.
The man was, however, detained Tuesday in a separate case run by Berlin local prosecutors, Koehler said. Berlin prosecutors said the arrest was for allegedly falsely claiming benefits.
A further search was conducted Tuesday at the home of a one-time roommate of Amri who is being treated as a witness in the case, Koehler said.
Amri, a 24-year-old Tunisian, tried to reach that person on the morning and afternoon of Dec. 19, but it isn't clear whether they actually spoke, she added.
Investigators say Amri drove the truck that plowed into a Christmas market in central Berlin. Twelve people were killed — including the truck's regular driver, whose body was found in the cab after the attack.
Koehler said that the Polish driver apparently was fatally shot before the truck set off for the market from its parking place north of central Berlin. She said investigations have shown "no indications that there was a third person in the cab at the time of the attack."
Germany on Dec. 21 released a Europe-wide wanted notice for Amri, who used a string of different names and nationalities. He was killed in a shootout Dec. 23 with Italian police in a Milan suburb after they stopped him for a routine identity check.
Surveillance footage from the Zoologischer Garten station, a few minutes' walk from the Christmas market, appears to show Amri shortly after the attack, Koehler said.
The pictures "suggest that Amri was aware that he was being recorded by this video camera," she said. She added that he turned to the camera and showed a "tawhid finger", or a raised index finger — an Islamic gesture sometimes used by jihadis.
The Islamic State group claimed responsibility for the attack days afterward.
On Dec. 21, footage from cameras in the Netherlands suggests that he was at the railway station in Nijmegen, Koehler said.
Amri traveled by train from Nijmegen to Amsterdam the same day, then caught a train to Brussels, Dutch prosecutors said in a statement Wednesday.
Belgian authorities said that he spent two hours at the Brussels North station coming from Amsterdam. He then traveled to Italy via France.
Ballistics tests "confirmed 100 percent" that the .22-caliber, German-manufactured handgun, used by Amri to shoot one of the Italian policemen who had stopped him for a security check "was the same one that was fired in Germany at the Christmas market attack," said Gianpaolo Zambonini, of the Rome forensic police.
Zambonini said investigations are ongoing to determine whether the gun might have been used in other crimes in Italy or elsewhere.
The bullet that lodged in the wounded policeman's shoulder was too damaged to be used for comparison, so Italian police ballistics experts used a simulator at a laboratory in Rome to fire another bullet from the gun. Then they compared scratches on the bullet with those found on bullet cartridges recovered in Berlin, police said.
Koehler said investigators are still trying to figure out how Amri got hold of the gun, but that's difficult because manufacturer Erma went bankrupt at the end of the 1990s, she added.
Amri, who had previously spent time in prison in Italy, arrived in Germany in July 2015. German authorities tried last year to deport him to Tunisia after his asylum application was rejected.