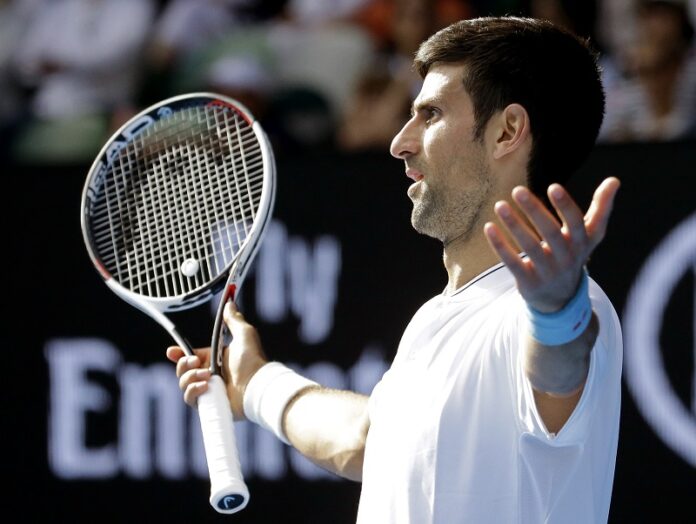 MELBOURNE, Australia — Six-time Australian Open champion Novak Djokovic has been upset in a shocking second-round loss to Uzbekistan wild card Denis Istomin.
Djokovic was aiming to be the first man to win the Australian title seven times, and had won all his previous six head-to-head meetings against Istomin.
It was destined to be a long Thursday afternoon on Rod Laver Arena for Djokovic, though, when he needed 24 serves and a quarter of an hour to hold in the first game, saving six break points.
After 4 hours and 48 minutes, he sent a service return long to give No. 117-ranked Istomin a 7-6 (8), 5-7, 2-6, 7-6 (5), 6-4 win.
"All the credit to Denis for playing amazing. He deserves to win," Djokovic said. "He was the better player in the clutch moments – he stepped it up and played aggressive.
"Obviously, I was not pleased with my performance overall, but I have to congratulate my opponent. Whenever he needed – he came up with a big serve, big play."
Istomin, who dropped out of the top 100 last year, had never beaten a top 10 player at a Grand Slam tournament.
"It is the biggest win for me. It means so much," Istomin said. "Now I feel I can play with these guys, and to be with them on the same level."
His only previous win in 33 matches against a top 10 player was in 2012 at Indian Wells, when he beat No. 5 David Ferrer.
Djokovic had won five of the previous six Australian Open championships, and had reached the fourth round or better every year since 2007 – the year before he won his first Grand Slam title at Melbourne Park.
"I'm not used to losing Australian Open second round – I've done so well here."
The last time he'd failed to advance beyond the second round at a major was at Wimbledon in 2008.
Rod Laver Arena was not entirely full, with at least one-fifth of the 15,000 seats empty by the fifth set.
Djokovic's usually vocal Serbian fans were also not a presence, with the exception of a couple women waving Serbian flags. Much of the crowd, sensing an upset, was behind Istomin in the fifth set, yelling "Come on Denis!"
When Istomin made a backhand winner down the line to break Djokovic to go up 3-2, he let out a roar and the audience stood and roared, too.
Djokovic, meanwhile, looked relatively subdued as the set wore on, hanging his head in between points and walking slowly behind the baseline to prepare to receive serve.
When Djokovic's last ball floated long, the crowd leapt to its feet and cheered as Istomin thrust his arms into the air.
"First of all, I feel sorry for Novak. I was playing so good today," Istomin said. "I surprised myself, as well, today."
Story: John Pye