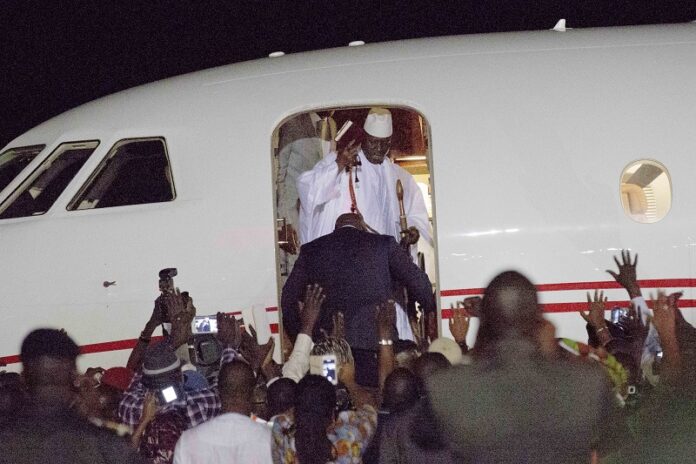 BANJUL, Gambia — Gambia's defeated leader Yahya Jammeh and his family headed into political exile Saturday night, ending a 22-year reign of fear and a post-election political standoff that threatened to provoke a regional military intervention when he clung to power.
As he mounted the stairs to the plane, he turned to the crowd, kissed his Quran and waved one last time to supporters, including soldiers who cried at his departure.
The flight came almost 24 hours after Jammeh announced on state television he was ceding power to the newly inaugurated Adama Barrow, in response to mounting international pressure for his ouster.
Though tens of thousands of Gambians had fled the country during his rule, Jammeh supporters flocked to the airport to see him walk the red carpet to his plane. Women shouted: "Don't go! Don't go!"
Jammeh landed in Guinea an hour later. He and his family then took off for Malabo, the capital of Equatorial Guinea, according to an airport official who spoke on condition of anonymity because the official was not authorized to speak to the press. Equatorial Guinea, unlike Guinea, is not a state party to the International Criminal Court.
"What is fundamental here is he will live in a foreign country as of now," Barrow told The Associated Press earlier Saturday.
Barrow won the December elections, but Jammeh contested the results as calls grew for him to be prosecuted for alleged abuses during his time in power. A regional force had been poised to force out Jammeh if last-ditch diplomatic efforts failed to persuade him to leave.
The situation became so tense that Barrow had to be inaugurated in neighboring Senegal at the Gambian Embassy on Thursday, after Jammeh's mandate expired at midnight.
Barrow told The Associated Press he would return to Gambia once it is "clear" and a security sweep is completed.
Shortly after Jammeh's departure, the United Nations, African Union and the West African regional bloc, ECOWAS, issued a declaration saying that any country offering him and his family "African hospitality" should not be punished and that he should be free to return to Gambia in the future. It said Jammeh was leaving "temporarily."
The joint statement did not include promises of amnesty but said the world and regional bodies "commit to work with the government of the Gambia to prevent the seizure of assets and properties lawfully belonging to former President Jammeh or his family and those of his Cabinet members, government officials and party supporters."
Jammeh, who seized power in a coup in 1994, once vowed to rule for a billion years. He represented one of a dwindling number of West African leaders staying in office without apparent limit. The success in getting him to leave peacefully may help the vast region move toward more stable transfers of power.
His departure has brought an end to the political crisis in this impoverished nation of 1.9 million, which promotes itself to overseas tourists as "the Smiling Coast of Africa" while being a major source of migrants heading north toward Europe.
As Jammeh prepared to leave the country after hours of last-minute negotiations with the leaders of Guinea and Mauritania, human rights activists demanded that he be held accountable for alleged abuses, including torture and detention of opponents.
"Jammeh came as a pauper bearing guns. He should leave as a disrobed despot. The properties he seeks to protect belong to Gambians and Gambia, and he must not be allowed to take them with him. He must leave our country without conditionalities," said Jeggan Bahoum of the Movement for the Restoration of Democracy in Gambia.
An online petition urged that Jammeh not be granted asylum and should instead be arrested. Barrow, though, cautioned that was premature.
"We aren't talking about prosecution here, we are talking about getting a truth and reconciliation commission," Barrow told the AP. "Before you can act, you have to get the truth, to get the facts together."
In recent days, Jammeh had been holed up in his official residence in Banjul, increasingly isolated as he was abandoned by his security forces and several Cabinet members.
The West African regional bloc had pledged to remove Jammeh by force if he did not step down. The group assembled a multinational military force that rolled into Gambia on Thursday, after Barrow's inauguration and a unanimous vote by the U.N. Security Council supporting the regional efforts.
The joint statement late Saturday announced a halt to the military operation in Gambia. But the force already in Banjul would stay to secure the capital before Barrow's arrival, Marcel Alain de Souza, chairman of the regional bloc, told reporters in Senegal.
Gambia's unrest had more than 45,000 people fleeing the country, the United Nations said. But when Jammeh left, the deserted streets came back to life. Restaurants opened, music played and people danced in the streets.
"It's New Year's Eve in Gambia. We are just about to start a new democratic Gambia," said Momodou Janneh.
"For the Gambia to truly move on, President Barrow must reside in State House and begin the task of governing," Jeffrey Smith, executive director of Vanguard Africa, wrote in an email. "In an ideal scenario, Jammeh will also face justice for the many crimes he has committed since 1994."
Story: Carley Petesch, Krista Larson