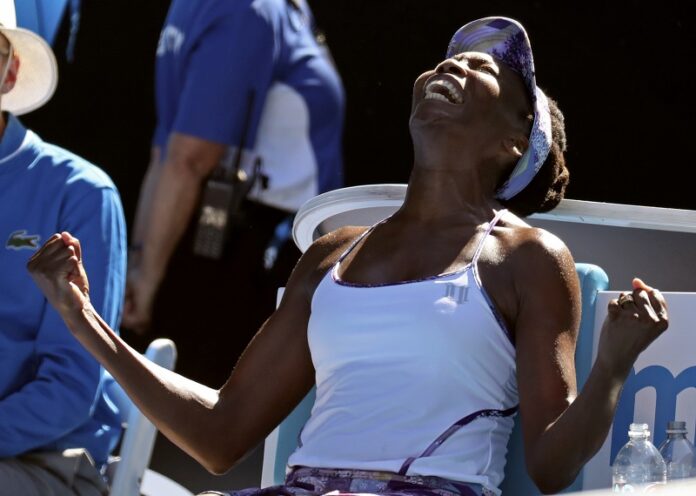 MELBOURNE, Australia — Venus Williams held up her end of the deal for another all-sisters Australian Open final with a 6-7 (3), 6-2, 6-3 win over CoCo Vandeweghe, becoming the oldest player to reach the final here in the Open era.
The 36-year-old Williams is back in a Grand Slam final for the first time since Wimbledon in 2009 and her first here since 2003, when she lost to her younger sister, Serena.
She could get a chance to avenge that loss – 22-time major winner Serena Williams was playing 34-year-old Mirjana Lucic-Baroni later Thursday for a spot in the final.
Williams tossed her racket after clinching the 2-hour, 26-minute semifinal on her fourth match point and put her hands up to her face, almost in disbelief, before crossing her arms over her heart. She then did a stylish pirouette on the court, smiling broadly, as the crowd gave her a standing ovation.
"Everyone has their moment in the sun," Williams said. "Maybe mine has gone on a while. I'd like to keep that going. I've got nothing else to do so let's keep it going."
Williams last reached a Grand Slam final at Wimbledon in 2009, the longest gap between major finals for any player in the Open era.
She's also the oldest player to reach a women's major final since Martina Navratilova, then 37 and 258 days, at Wimbledon in 1994.
The 25-year-old Vandeweghe was playing in the last four at a major for the first time and was the only semifinalist younger than 34. She'd advanced with back-to-back wins over top-ranked Anglique Kerber and French Open champion Garbine Muguruza and took charge against Williams in the first-set tiebreaker.
But Williams, a seven-time major winner, rallied after dropping a set for the first time in the tournament, breaking Vandeweghe four times over the final two sets and putting pressure back on her fellow American.
"It means so much, mostly because she played so well. She played so unbelievable," Williams said. "I had to play defense the whole time, if felt like.
"There was never a moment of relaxation ever so to be able to get to the final through a match like this, I'm just excited about American tennis, as well."
Vandeweghe said earlier in the tournament she'd admired the Williams sisters as an up-and-coming player, and once asked for Venus' autograph. Williams said one of the best things about her longevity in the game was having an influence on other players.
"Growing up, all I wanted was to have an opportunity to play these tournaments. But then you get here and then you have an opportunity to inspire other people," she said. "It's more than a cherry on top. It's more than I dreamed of."
Earlier, Bob and Mike Bryan earned a shot at a seventh Australian Open doubles title after a rain-interrupted 7-6 (7-1) 6-3 semifinal win Friday over Pablo Carreno Busta and Guillermo Garcia-Lopez.
Story: John Pye