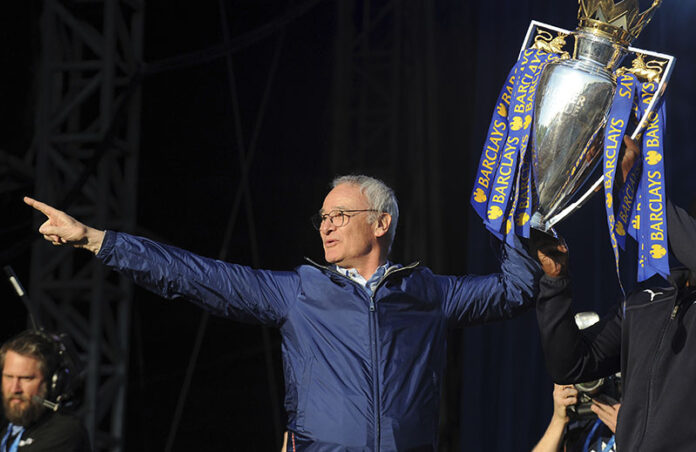 LONDON — Two days after Claudio Ranieri's firing, Leicester players went on the defensive Saturday to insist they didn't play any role in the manager behind their astonishing English Premier League title triumph losing his job.
"There is speculation I was involved in his dismissal and this (is) completely untrue, unfounded and is extremely hurtful!" striker Jamie Vardy wrote on Instagram. "The only thing we are guilty of as a team is underachieving which we all acknowledge both in the dressing room and publicly and will do our best to rectify."
The social media posts and interviews followed a noticeable lack of tributes from the championship-winning players in the day after Ranieri's firing. They came as Leicester's fight for top-flight survival became tougher, with the team sinking into the relegation zone of the league they won barely nine months ago due to Saturday's results going against them.
Leicester's Thai owners were reported to have consulted key players before dismissing Ranieri on Thursday.
"We are players and we can only affect (things) on the pitch, what happens above our heads at boardroom level is completely out of our control," goalkeeper Kasper Schmeichel told the BBC. "All these reports about meetings, I don't know where they've come from. What I can say is our owners are very hands on. They are in and around the club all the time.
"They come to practically every game, they come to the training ground and they speak to all the players regularly. We talk to them about all manner of things from the weather to the pitches to whatever. These guys are very successful businessmen and have taken this club from the bottom of the Championship to the top. They're not going to let themselves be influenced by any players."
Many of those players were turned into champions by Ranieri, a feat they never envisioned when joining a provisional club which hadn't won the league since being formed in 1884 until last May.
Vardy was signed by Leicester in 2012 as a non-league player and his 24 goals powered the team to the title last May. But the England striker has found the target only five times this season in the league, an alarming drop by a player who was pursued by Arsenal in the summer transfer window.
"What we achieved together and as a team was the impossible!" Vardy said on Instagram. "(Ranieri) believed in me when many didn't and for that I owe him my eternal gratitude."
Seemingly explaining the delay in paying tribute to the Italian, Vardy wrote: "I must have written and deleted my words to this post a stupid amount of times! I owed Claudio to find the right and appropriate words! Claudio has and always will have my complete respect!"
Leicester doesn't play until Monday when the central England team hosts Liverpool. There was a break in preparations on Saturday morning as Ranieri paid a final visit to the training ground following his firing on Thursday.
"Big respect to this great man who helped us achieve history, you helped me build myself as a player and gave me the courage I needed," playmaker Riyad Mahrez wrote on Twitter alongside a picture of Ranieri after the meeting. "You believed in me from day one. Huge Thank you for everything and good luck."
In a short Instagram post, winger Demarai Gray wrote: "Thank you for all the opportunities you gave me. Very grateful & wish you the best in the future."
Defender Danny Simpson said Ranieri helped him "become a better player and person."
"A lot of you don't know but my Leicester career was over, he believed in me and gave me a chance," Simpson wrote on Instagram. "That's something else i will also never forget."