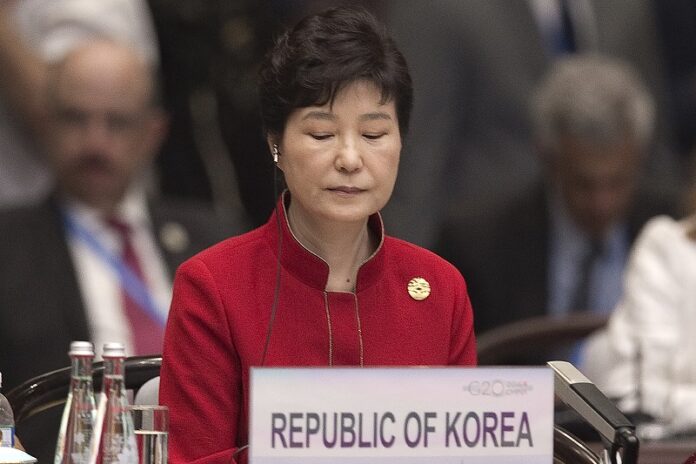 SEOUL, South Korea — In a historic, unanimous ruling Friday, South Korea's Constitutional Court formally removed impeached President Park Geun-hye from office over a corruption scandal that has plunged the country into political turmoil, worsened an already-serious national divide and prompted calls for sweeping reforms.
It was a stunning fall for Park, the country's first female leader and the daughter of a dictator who rode a lingering conservative nostalgia for her father to victory in 2012, only to see her presidency descend into scandal.
The ruling by the eight-member panel opens her up to possible criminal proceedings, and makes her South Korea's first democratically elected leader to be removed from office since democracy came in the country in the late 1980s.
Park's "acts of violating the constitution and law are a betrayal of the public trust," acting Chief Justice Lee Jung-mi said. "The benefits of protecting the constitution that can be earned by dismissing the defendant are overwhelmingly big. Hereupon, in a unanimous decision by the court panel, we issue a verdict: We dismiss the defendant, President Park Geun-hye."
South Korea must hold an election within two months to choose Park's successor. Liberal Moon Jae-in, who lost to Park in the 2012 election, currently enjoys a comfortable lead in opinion surveys. Whoever becomes the next leader will take over a country facing a hostile North Korea, a stagnant economy and deep social and political divides.
Pre-verdict surveys showed that 70 to 80 percent of South Koreans had wanted the court to approve Park's impeachment. But there have been worries that Park's ouster would further polarize the country and cause violence between her supporters and opponents.
Sensing history, thousands of people — both pro-Park supporters, many of them dressed in army-style fatigues and wearing red berets, and those who wanted Park gone — gathered around the Constitutional Court building and a huge public square in downtown Seoul.
A big television screen was set up near the court so people could watch the verdict live. Hundreds of police were on hand for any protests, wearing helmets with visors and black, hard-plastic breastplates and shin guards. The streets near the court were lined with police buses and barricades.
Park's parliamentary impeachment in December came after weeks of Saturday rallies that drew millions who wanted her resignation. Overwhelmed by the biggest rallies in decades, the voices of Park supporters were largely ignored. But they've recently regrouped and staged fierce pro-Park rallies since.
People on both sides have threatened not to accept a Constitutional Court decision that they disagree with. One of Park's lawyers told the court last month that there will be "a rebellion and blood will drench the asphalt" if Park is booted from office. Many participants at anti-Park rallies had said they would stage a "revolution" if the court rejected Park's impeachment.
"If Park accepts the ruling and soothes those who opposed her impeachment, things will be quiet," said Yoon Tae-Ryong, a political scientist at Seoul's Konkuk University. "But looking at what she's done so far, I think that might be wishful thinking."
Others disagreed, saying violent protests won't be supported by the general public.
Prosecutors have arrested and indicted a slew of high-profile figures over the scandal, including Park's confidante Choi Soon-sil, top Park administration officials and Samsung heir Lee Jae-yong. But Park has avoided a direct investigation thanks to a law that gives a sitting president immunity from prosecution for most of alleged crimes.
Since she's now no longer in power, prosecutors can summon, question and possibly arrest her. Her critics want to see Park appear on TV while dressed in prison garb, handcuffed and bound like others involved in the scandal. But some analysts worry that could create a backlash by conservatives.
Even after the election, imprisoning Park could still be a burden for a new government, which must pursue national unity to overcome security, economic and other problems, said Chung Jin-young, a professor at Kyung Hee University. Others say it won't be difficult.
Among the most serious problems facing South Korea is China's retaliation against the deployment of a U.S. high-tech missile defense system in the South. Ties with North Korea are terrible, with Pyongyang seeking to expand its nuclear and missile arsenal. Japan hasn't sent back its ambassador, which it recalled two months ago over history disputes. South Korea also worries about the Trump administration asking for a greater financial contribution for U.S. troop deployment in the South.
Park rose to power in 2012 largely thanks to the support of voters who believed her father guided the country out of poverty after the 1950-53 Korean War and that his daughter would show the same charismatic leadership to revive the economy.
But her father was also a burden because there are many who remember the senior Park as a ruthless thug. These critics have linked her alleged unclear and high-handed decision-making and attempts to infringe upon freedom of speech to her father's high-handed style.
"The nostalgia for Park Chung-hee's developmental dictatorship, which has existed as a sort of myth since the '60s, has been shattered along with Park Geun-hye's impeachment," said Lim Jie-Hyun, a professor at Sogang University. "When people voted for Park Geun-hye, they didn't do so because of her."
Park Geun-hye has offered a public apology several times and acknowledged she got some help from Choi for editing speeches and on the issue of public relations. But Park has denied any legal wrongdoing.
The two women became friends in the 1970s, around the time when Park began serving as first lady after her mother was killed during a failed 1974 assassination attempt on her father. Park Geun-hye said Choi helped her "when I had difficulties" in the past. The two women had 573 phone calls between April 18, 2016 and Oct. 26, 2016, according to an investigation report by prosecutors.
Prime Minister Hwang Kyo-ahn has led the government as acting leader since Park's impeachment and he will continue to do so until South Korea elects new president by May. Some media reports said Hwang might run for presidency as a conservative candidate. If that happens, he should resign to run and a deputy prime minister will serve as another interim leader.
In 2004, then President Roh Moo-hyun was impeached by parliament for alleged election law violations and incompetence, but the Constitutional Court later reinstated his power.
Story: Hyung-jin Kim and Foster Klug