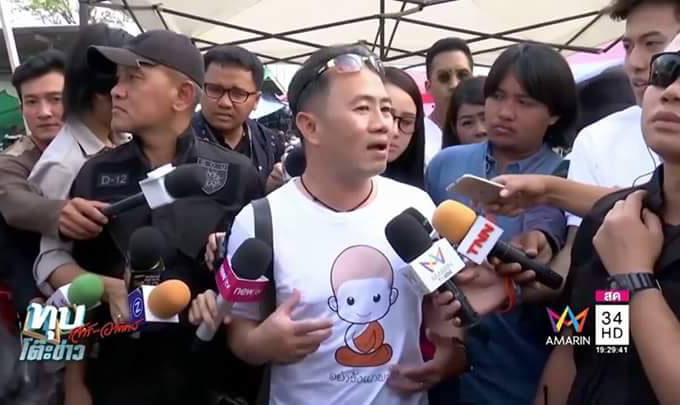 BANGKOK — A well-known Redshirt activist vowed Thursday to continue supporting the besieged Wat Dhammakaya despite being briefly arrested and banned from entering the area.
In a sign the situation has become more complicated, Anurak Jeantawanich declared he was neither a follower or disciple of the influential order, but joined the fray due to fight perceived injustice. Meanwhile, Redshirt rivals decry the involvement of such activists as politically motivated attempts to exploit the situation to attack the military regime.
Anurak, aka Ford Red Path, was arrested Sunday outside the blockaded temple grounds north of Bangkok and interrogated for two hours. He said he was released on the condition he not return to the restricted area, a deal he may break.
"If there's a crackdown or the monks are harmed, I may return to the area again," he said.
Read: Old Grievances Flare on Social Media Over Dhammakaya's Divisiveness
Anurak, who gained notoriety last year for publicly opposing the junta-sponsored charter referendum under threat of prosecution, insisted he has never even stepped onto the temple grounds in his life.
But he couldn't bear what he described as injustice and excessive use of autocratic power under Article 44 of the provisional constitution.
"I came out because I see violence and the use of Article 44 as wrong. My humanitarian conscience led me to do this," said the activist, who said he may return Sunday to get close to the restricted area.
But not all are convinced.
A well-known critic of former Prime Minister Thaksin Shinawatra, the de facto leader of the Redshirt movement, said the temple of being a "den" of his support.
"Right now, Redshirts are joining the fray because they want to attack the junta," artist Vasan Sitthiket said Thursday. "If monks are harmed it will ignite anti-[junta] sentiments. But the thing is, some are not real monks."
On Twitter, anti-Thaksin user @Higgstator tweeted a similar opinion of Redshirts: "They are definitely opportunists…"
The Department of Special Investigation, which was given carte blanche three weeks ago under Article 44 to capture Dhammakaya's former abbot, said it expects the operation to be finished in five days.
It was suggested today that the temple's fugitive ex-abbot Dhammajayo – who faces many charges including embezzlement – could be defrocked if he is arrested, days after His Majesty the King stripped him of a prestigious title citing the former abbot's lack of cooperation. The possibility of defrocking him in absentia were being discussed Thursday by the DSI.
The blockade came months after Dhammajayo refused to turn himself in. Temple representatives have maintained the charges are politically motivated and that Dhammajayo would not get a fair trial.
T-Shirts and Free Lunch
Anurak said he was praying outside the temple grounds Sunday when he was arrested.
"I was surprised that wearing white to make merit as a Buddhist would lead to being arrested in front of many people," Anurak said.
Anurak said he was interrogated for two hours at a nearby border-patrol police camp north of Bangkok in Pathum Thani province. A copy of a police report he shared stated that he offered 100 lunch boxes to monks protesting in the area and distributed white T-shirts printed with the message "Please Don't Bully Monks."
Asked what he thought about the various charges against the ex-abbot and temple, Anurak said he didn't know whether they were right or wrong, but was concerned about the greater political implications.
"But I believe there's politics behind it, and it's no longer just about [Dhammachayo] turning himself in," he said.
Related stories:
Old Grievances Flare on Social Media Over Dhammakaya's Divisiveness
DSI Suspects Dhammajayo Hiding in Newly Fortified Hospital
Inside Wat Dhammakaya, Defenders Say Morale and Mistrust Run High
Search of Dhammakaya Begins, DSI Chief Says (Video, Photos)
Dhammakhaya Sect Goes Into Siege Mode to Protect Fugitive Abbot
A Look Inside the Besieged Wat Dhammakaya
Yellow & Red Seen in Orange Folds of Dhammakaya Scandal
Protesting With Precision, Anurak Jeantawanich Walks a Tight Legal Path
'Vote No' Campaigners Stopped by Pattaya Police