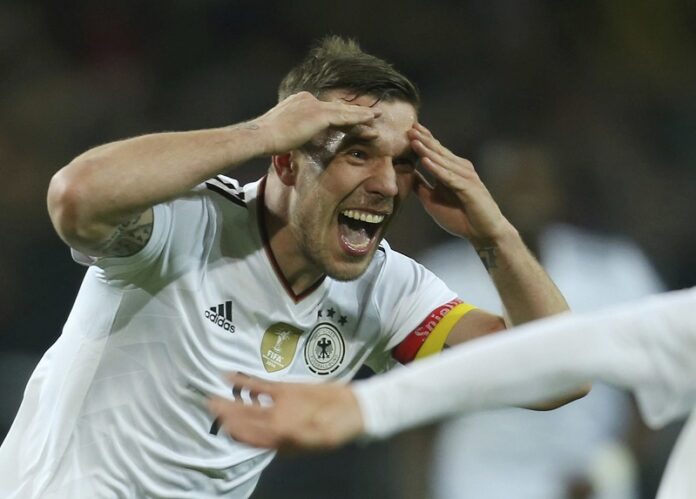 DORTMUND, Germany — Sometimes, there really is a fairy-tale ending.
In his last international game in a 13-year career, Lukas Podolski struck a brilliant winning goal to sign off by giving Germany a 1-0 win over England in a friendly on Wednesday.
Podolski led the side out as captain for the first time in his last international, and he hammered the ball to the top right corner from 25 meters (yards) to win it with just over 20 minutes remaining.
England goalkeeper Joe Hart was given no chance, and Podolski had a look of incredulity as he wheeled away to celebrate.
"I don't know how much he paid for the England goalkeeper to let it in," World Cup-winning teammate Thomas Mueller joked.
"Normally fairy tales don't happen in football," England coach Gareth Southgate said.
The 31-year-old Podolski had been honored before his 130th game for Germany and had his name chanted by fans during the match. He received a standing ovation when he went off in the closing stages, and he joined fans to return their affection after the game.
"The way it ended today was like a film," Podolski said. "We win 1-0 and I score the thing."
Only 1990 World Cup-winning captain Lothar Matthaeus and all-time top-scorer Miroslav Klose have made more appearances for Germany.
"Special players deserve a special farewell. It's great for him," Germany coach Joachim Loew said.
England might have won the game, but lacked a clinical edge in front of goal. Southgate's side had looked more likely to score before Podolski struck and the players will be able to take plenty of encouragement from the performance.
"I'm not somebody that's over positive about things if we've been defeated, but I have to be really pleased with how the players played, individually and in terms of the tactical system," Southgate said after his first game since becoming coach on a permanent basis.
"I'm very pleased with what we learned, the manner of the performance, and the one bit we missed was the finish. We should have had the game won, really," Southgate said.
It was England's first defeat in its sixth game since Euro 2016.
Many fans dusted off their Podolski jerseys for the game, while there was a good trade in Podolski scarves outside the stadium. Cologne fans from his hometown club also wore their colors in tribute to their hero.
There was a giant banner in front of the Westfalenstadion's south stand declaring, "130 games, 48 goals, a legend. Thanks Lukas."
"Thank you Dortmund, thank you Cologne and thank you Germany," Podolski said for the reception.
It seemed like a changing of the guard from Germany with Joshua Kimmich (22), Julian Weigl (21), Leroy Sane (21), Julian Brandt (20) and Timo Werner (21) all starting, the latter for his debut.
But it was the visitors that looked sharp and Burnley defender Michael Keane might have done better on his England debut when he fired over early on.
Keane blocked a Podolski shot as the home side gradually improved, but there were groans from fans at the frequent waylaid passes and unforced errors.
A mislaid pass from Kimmich set Adam Lallana racing clear. Germany 'keeper Marc-Andre ter Stegen was relieved to see the Liverpool midfielder's effort crash back off the far post.
Dele Alli should have put England ahead before the break but he shot straight at Ter Stegen when he only had the goalkeeper to beat. More loose play from the home side in midfield had created the opportunity.
Podolski, who had a shot blocked and had blazed over in the first half, again went close in the second before he finally claimed his 49th and last international goal for a perfect ending.
"I couldn't have written a better script," Mueller said. "It would be too cheesy for me as a director. No one would believe it."
It was Germany's first win at home over England since a 3-1 victory 30 years ago in Duesseldorf.
Germany next turns attention to its World Cup qualifier against Azerbaijan in Baku on Sunday, when England hosts Lithuania at Wembley Stadium.
Story: Ciaran Fahey