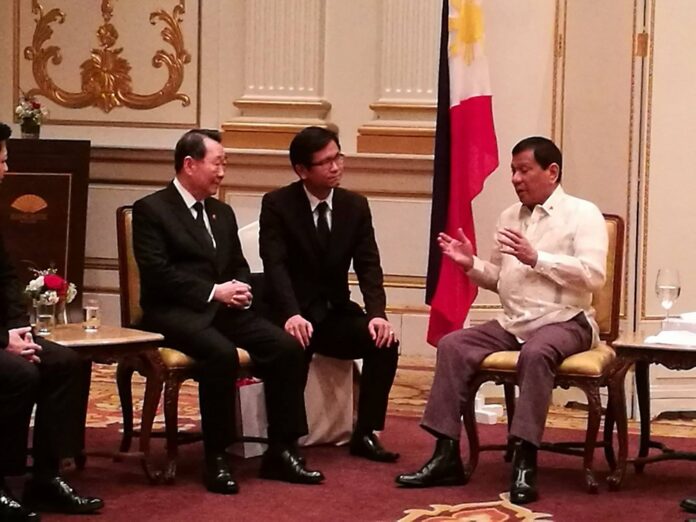 BANGKOK— Thailand's largest conglomerate on Monday denied reports it pledged millions of baht to support Philippine President Rodrigo Duterte's war on drugs.
Charoen Pokphand Group, or CP, said the company is willing to donate PHP10 million pesos (roughly 7 million baht) to the Philippine government only to support local community development, not violent drug suppression as claimed by a member of Duterte's cabinet and widely reported in Filipino media.
"We insist the figure is 7 million baht, not 18 million baht," CP spokeswoman Sasipen Trisophol said Monday, correcting a figure reported by Voice TV that appeared to be based on the exchange rate for Mexican – not Philippine – pesos.
Duterte was in Bangkok for three days last week, and on Wednesday, CP Group chairman Dhanin Chearavanont reportedly met with him at the Mandarin Oriental Hotel. CP plans on investing billions of baht in the Philippines in the coming years.
Many Filipino organizations such as ABS-CBN and GMA Network reported that the discussion about expanded CP investment in the Philippines was linked it to the extra-judicial executions of thousands of suspected drug users and dealers there since Duterte took office, citing a Facebook post by Duterte's Secretary of Agriculture, Manny Piñol.
"Chearavanont also said his corporation will donate a modest amount of P10-M for President Duterte's campaign against drugs and for his rural development program," Piñol wrote Wednesday.
Piñol added that Duterte ensured his government would facilitate CP's development plans which would see it invest USD $2 billion (68.9 billion baht) over the next five years in the Philippines for the production of pork and chicken.
"One thing that I can assure you is that nobody will bother you. There will be no corruption under my administration, and you will get the fair return of your investments in my country," Duterte reportedly said.
Sharing the news on his Facebook page again Monday, Piñol repeated the claim:
"In Thailand, Pres. Duterte's war on Drugs gets support from Thai Corp."
Voice TV reported on Sunday cited the ABS-CBN report that CP pledged to donate for Duterte's campaign against drug and rural development. The report incorrectly converted PHP 10 million (6.9 million baht) to be 18.4 million baht, apparently mistaking it for the Mexican peso.
CP then sent a notice to Voice TV on Sunday correcting both the figure and its intended purpose.
Ramon Lopez, Philippines Secretary of Trade and Industry, said in a Thursday interview that CP would invest USD $500 million in his country in the near future, which was expected to generate at least 2,000 jobs.
Based in Thailand, CP is one of the world's largest conglomerates, with operations and investments in China and Russia.