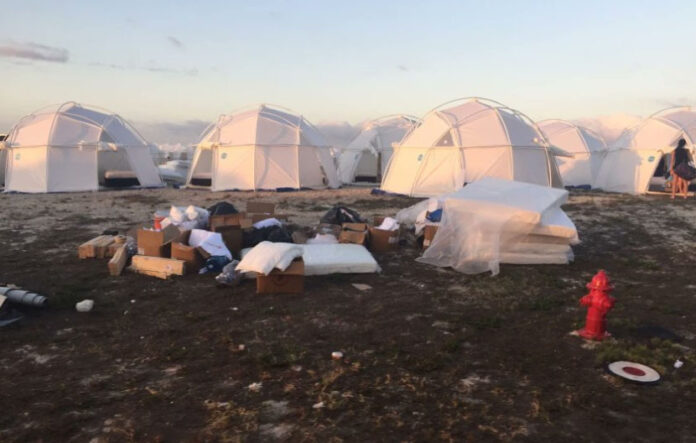 MIAMI — Organizers of a much-hyped music festival in the Bahamas canceled the weekend event at the last minute Friday after many people had already arrived and spent thousands of dollars on tickets and travel.
Fyre Festival organizers announced the cancellation of what they previously billed as a "once-in-a-lifetime" concert along the lines of the Coachella Valley Music and Arts Festival in Southern California. People had already begun arriving in the Exuma islands for the first of two weekends that was to include performances by Blink-182 and others.
A statement cited "circumstances out of our control," for their inability to prepare the "physical infrastructure" for the event in the largely undeveloped Exumas. Photos published on social media showed tents, wooden stalls and portable lavatories had been brought in for the festival, which was produced by a partnership that includes rapper Ja Rule.
"I'm heartbroken at this moment," Ja Rule, whose real name is Jeffrey Atkins, said on Twitter. "I wanted this to be an amazing event. It was not a scam as everyone is reporting."
The event also proved a popular topic for ridicule on social media.
Rich people resorted to looting, fights, fires and stealing after just 2 DAYS. Yet the poor, homeless and hungry are animals. #fyrefestival

— C. Morris (@ms_nikki48) April 28, 2017
https://twitter.com/dustinrefill/status/858077447614377984
GUYS GUYS ITS OK KENDALL WENT TO #fyrefestival IM SURE SHE BROUGHT ENOUGH PEPSI TO FIX, THIS CALM DOWN.

— Ryan Manns (@ryan_the_manns) April 28, 2017
The Fyre Festival had promised "culinary delights and luxury" over this weekend and the second one in May. Organizers had relied on models and other minor celebrities to heavily promote the festival as a glitzy destination event. It was unclear from the website if the second weekend would also be canceled.
The Bahamas tourism ministry had expected it to be one of the largest such events ever held in the island chain east of Florida. But attendees complained bitterly in social media posts about disorganization, a lack of accommodations and inadequate food.