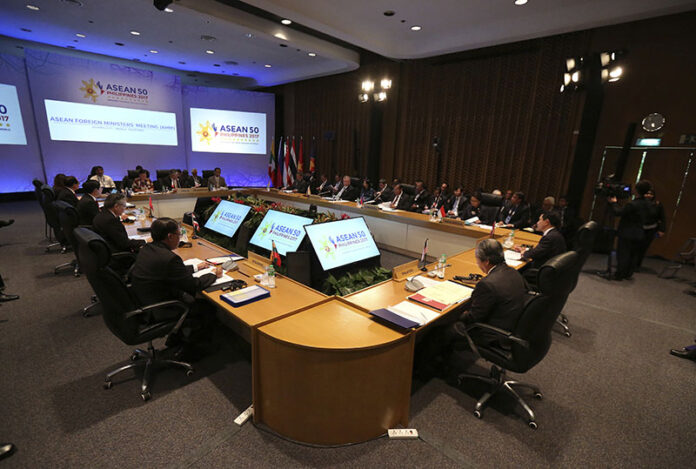 MANILA — Alarm over North Korea's nuclear ambitions and its intensifying standoff with the United States, and tensions over China's assertive territorial claims in the South China Sea are under the spotlight at an annual summit of Southeast Asian nations in Manila.
Foreign ministers of the Association of Southeast Asian Nations met under extra heavy security in the Philippine capital on Friday, the eve of the summit of the 10-nation bloc, to discuss regional security and efforts to integrate their economies in response to growing Chinese clout.
Philippine President Rodrigo Duterte is also under the limelight as he hosts his first regional summit amid sharp criticism by Western governments and human rights groups of his bloody crackdown on illegal drugs that has left thousands of suspects dead.
The ASEAN foreign ministers issued a statement expressing "grave concern" over North Korea's nuclear missile tests, despite a plea from the North not to be subjected to such pressure.
They said instability on the Korean Peninsula "seriously impacts the region and beyond."
ASEAN also urged North Korea and all parties concerned "to exercise self-restraint in order to de-escalate the tension and refrain from actions that may aggravate the situation," adding its voice to growing international alarm over the crisis involving the North and its rivals, led by the United States.
President Donald Trump's administration has declared that all options, including a targeted military strike, remain on the table. But a pre-emptive attack isn't likely, U.S. officials have said, and the administration is pursuing a strategy of boosting pressure on North Korea with assistance from China, the North's main trading partner and economic lifeline.
North Korea has been reaching out to other nations to ease criticism amid the U.S. threats, according to a Philippine official.
North Korea sent its Thailand-based ambassador to Manila recently "to suggest that North Korea not be put under pressure" during the ASEAN meetings hosted by the Philippines, said the official, who spoke on condition of anonymity because he wasn't authorized to discuss the matter with the media.
The ASEAN foreign ministers also discussed long-simmering territorial disputes in the busy South China Sea involving ASEAN members Brunei, Malaysia, the Philippines and Vietnam. The most powerful claimant, China, is pressuring ASEAN not to mention an arbitration decision last year that invalidated Beijing's claims to most of the disputed waters, according to three Philippine officials who spoke to the AP on the issue.
A draft of an ASEAN communique to be issued by Duterte at the end of the summit on Saturday does not mention the Philippines' arbitration victory but calls for "full respect for legal and diplomatic processes," which the Chinese also wanted removed because they believe it referred to the ruling, the officials said.
The three officials spoke on condition of anonymity because of the sensitivity of the issue.
Chinese Embassy officials did not immediately respond to a request for comment. Duterte told reporters Thursday that he would not raise the arbitration ruling at the summit, a stance critics say is subservient to Beijing.
Duterte, who has reached out to China to boost trade and seek infrastructure funding, said the ruling is an issue between China and the Philippines and does not concern other ASEAN member states.
Duterte, 72, will also be under the summit spotlight. Just less than a year in power, he faces a mass murder complaint before the International Criminal Court and an impeachment bid at home as bodies continue to pile up in his war on illegal drugs.
Duterte, however, is likely to find solace from the storm of criticism during ASEAN, which has a bedrock policy forbidding member states from meddling in each other's domestic affairs.
That has fostered the 10-nation bloc, founded half a century ago, as it evolved into an unwieldy collective of dictatorships, authoritarian states and a monarchy, along with fledgling democracies.
"The ratbag of dictators, autocrats and juntas that dominate ASEAN's ranks perceive transparency, accountability and rule of law as existential threats rather than foundations of good governance," said Phelim Kine of the U.S.-based group Human Rights Watch.
"Expect ASEAN leaders to yet again throw the human rights of an Asian country under the bus by remaining silent about Duterte's abusive drug war by implicitly or explicitly invoking the organization's 'non-interference' principle,'" Kine said.
Once a government prosecutor who fought outlaws and insurgents, Duterte became a longtime mayor of southern Davao city, where he received the nickname "Duterte Harry," after Clint Eastwood's Dirty Harry movie character, for his deadly anti-crime campaign.
Since becoming president last June, his crackdown on suspected drug dealers and users has left nearly 2,800 people dead purportedly in gunbattles with police. Another 6,000 deaths are being investigated.
Story: Jim Gomez, Teresa Cerojano