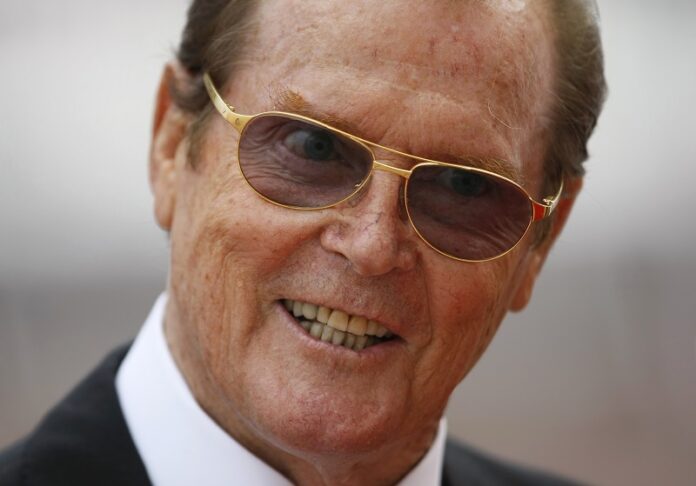 LOS ANGELES — Reaction to the death of Roger Moore Tuesday at age 89.
— "The world has lost one of its great champions for children – and the entire UNICEF family has lost a great friend. In his most famous roles as an actor, Sir Roger was the epitome of cool sophistication; but in his work as a UNICEF Goodwill Ambassador, he was a passionate – and highly persuasive – advocate for children. He once said that it was up to all of us to give children a more peaceful future. Together with Lady Kristina, he worked very hard to do so." – UNICEF executive director Anthony Lake in a statement.
— "Roger Moore, loved him. At 10 I used to try to dress like Simon Templar. My mother worked part time at the Indonesian embassy. Added intrigue to my persona." – Russell Crowe on Twitter.
— "Roger, wherever you are, you brought a lot of light to the world." – Sir Anthony Hopkins, in an interview.
— "Oh no. As if today wasn't already sad enough. RIP Sir Roger Moore, 89. A wonderful actor & lovely man." – Piers Morgan on Twitter.
— "He's Bond, man. He played James Bond. That's one of those iconic characters that memorializes you forever in entertainment. I was sorry to hear that he passed today. My thoughts and prayers are with his family. He lived a great life." – Josh Duhamel in an interview.
— "The first leading role I ever had as a Bond girl was such a new and frightening world and Roger held my hand and guided me through every process. He taught me about work ethic and humility. He was so funny, kind and thoughtful to everyone around him and in that Roger taught me what a movie star really was and should be. Through his lifelong work with UNICEF he showed me the true meaning of being a humanitarian and giving back. He was my Bond." – Jane Seymour on Instagram.
— "It is indeed with a heavy heart that I hear the news of your passing this morning. You were a big part of my life, from The Saint to James Bond.. .you were a magnificent James Bond and one that lead the way for me, the world will miss you and your unique sense of humor for years to come." – Pierce Brosnan, who also played Bond, in a Facebook post.
— "Tony & Sir Roger Moore were funny in The Persuaders. Already so sad this day. Children. Innocents. Hands held out 2 those affected. #allies" – Jamie Lee Curtis, who posted a photo of her father and Moore together on Twitter.
— "R.I.P Sir Roger Moore. He was the king of cool." – Boy George on Twitter.
— "Few are as kind & giving as was Roger Moore. Loving thoughts w his family & friends. He will be missed too by UNICEF" – Mia Farrow on Twitter.
— "RIP Sir Roger Moore. My first Bond and one of the first actors that I loved as a kid. And a lovely, funny, warm person to boot. Farewell." – Filmmaker Edgar Wright on Twitter.
— "RIP Sir Roger Moore. The car that turned into a sub in The Spy Who Loved Me blew my mind as a kid." – Filmmaker James Wan on Twitter.
— "Roger was a beloved part of the MGM family for decades and leaves behind a legacy of iconic film and television performances that will be revered for generations to come. His suave sophistication in his defining role as James Bond was matched only by his generosity and kindness. He bettered the lives of countless individuals around the world through his long-standing involvement with UNICEF as a Goodwill Ambassador." – Gary Barber, Metro-Goldwyn-Mayer Inc. CEO and chairman in a statement.