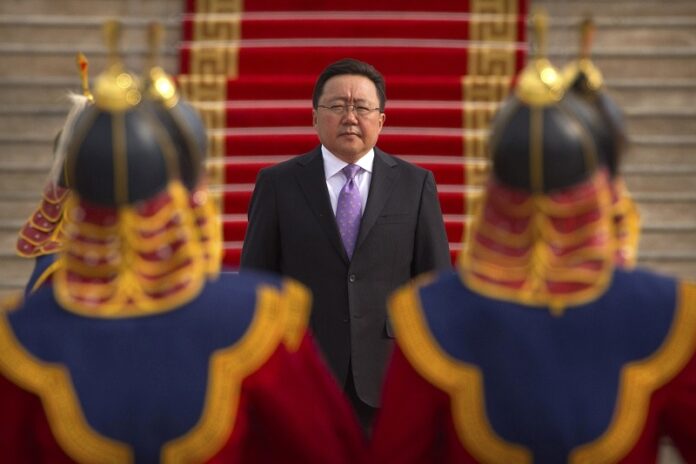 ULAANBAATAR, Mongolia — Mongolians will vote for a new president on Monday in a race pitting a horse salesman against a former judo star and a nationalist wanting to get more from the vast landlocked country's mineral wealth.
The three candidates are seeking to succeed Tsakhia Elbegdorj of the Democratic Party who has served the maximum of two four-year terms. While the nation of 3 million had been an oasis of democratic stability since the end of communist rule nearly three decades ago, its politics have grown increasingly fractious amid an economic crisis and accusations of corruption among the ruling class.
Speaker of the parliament and horse dealer Miyegombo Enkhbold is representing the Mongolian People's Party, which won a landslide victory in legislative elections last year. He faces off against judo champion and business tycoon Khaltmaa Batulgaa of the Democratic Party, with Sainkhuu Ganbaatar of the Mongolian People's Revolutionary Party rounding out the field.
It's unclear whether Ganbaatar will be eligible to run after a video surfaced of him accepting a campaign donation from a South Korean citizen.
Sandwiched between Russia and China, resource-rich Mongolia has been roiled by financial upheaval and the increasing draw of China's economic and political influence that competes with its ties with the democratic West, especially the United States.
"This election looks orchestrated from the very beginning, with nomination of candidates in a very strange way," said Sumati Luvsandendev, director of the liberal-leaning Mongolian think tank the Sant Maral Foundation. "I have never seen an election like it."
Enkhbold, campaigning under the slogan of "National unity; Mongolian pride," is widely seen as representing stability at a time when Mongolia is showing tentative signs of recovery from its economic crisis brought about by a dramatic drop in global commodity prices.
He has been tainted by allegations of corruption, however. Last month, an audio tape was leaked to the public purportedly of a 90-minute conversation in 2014 between Enkhbold and two of his party's officials discussing a USD $25 million bribe to reshuffle government positions.
Batulgaa has campaigned on a "Mongolia First" policy, borrowing the language of U.S. President Donald Trump. His manifesto promises "a patriotic president" seeking "equal cooperation" with neighbors like China, which he has criticized in the past.
His company, "Genco," is one of Mongolia's largest, with businesses including hotels, media, banking, alcohol, horsemeat and a Genghis Khan-themed complex. He was also minister of agriculture between 2012 and 2014 and a former member of parliament, as well as president of the Mongolian Judo Association.
However, he too has been tarnished following an investigation last year by the Independent Authority Against Corruption into an alleged misappropriation of funds for a new railway during his time as minister of transport. Batulgaa is also reported to have various offshore accounts, an increasingly sensitive topic.
Ganbaatar, who like Batulgaa failed to keep his seat in 2016, has been a vocal critic of mining giant Rio Tinto, earning him past popularity. The self-described feng shui master and "Robin Hood" has often claimed the country should get a better deal with the company over its copper and gold mine, Oyu Tolgoi. The mine, 66 percent held by Rio subsidiary Turquoise Hill Resources, will account for one third of Mongolia's gross national product by 2020, according to estimates.
Foreign investment in Mongolia has slumped in recent years following weaker commodity prices and high-profile disputes between the government and large investors including Rio Tinto. Mongolia's economy grew just 1 percent last year, down from 17.5 percent in 2011 when it was the world's fastest growing. It now has USD $23 billion in debt, more than double the size of its economy. Unemployment is roughly 9 percent, with about one in five Mongolians living in poverty.
"Business is difficult," said Erdenechimeg Gunhabaatar, a 26-year-old fruit vendor and father of two. "I really think my government is in a difficult situation, especially with the economic crisis."
"I really hope with the new president, things will get better," Gunhabaatar said.
The country recently secured a USD $5.5 billion International Monetary Fund-led bailout to stem its financial crisis, with a USD $500 million bond repayment due in January 2018. Enkhbold's party pledges to continue the IMF's program, including higher taxes and spending cuts, while Ganbaatar has criticized the IMF.
That bailout will likely limit any Mongolian government's room for maneuver over the next several years, said Julian Dierkes, an associate professor at the University of British Columbia.
"The IMF plays a huge role; it locks in certain budgets and raises taxes," Dierkes said.
While a Sant Maral poll earlier this year suggested a strong lead for Enkhbold of the MPP, Luvsandendev says the likelihood of low voter turnout makes the result now "impossible to predict."
At least 50 percent of eligible voters must cast ballots for the election to be valid.
"The youth don't see themselves in the candidates," said Lkhagva Erdene, executive producer of news at independent broadcaster MongolTV. "We and many others feel the only road ahead is the one we pave ourselves."
Story: Grace Brown