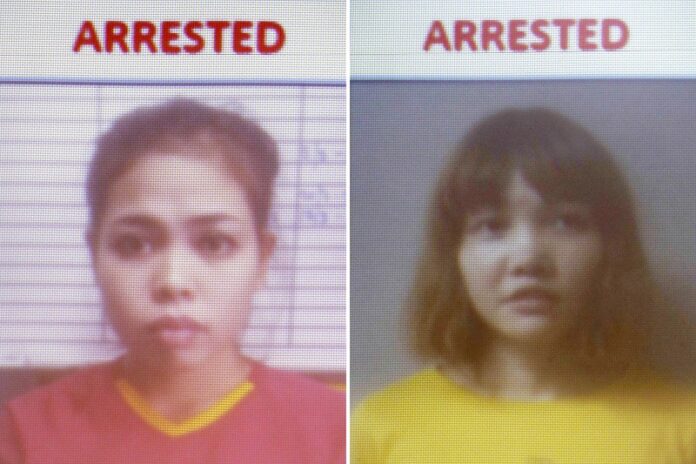 KUALA LUMPUR, Malaysia — Two women accused of poisoning the estranged half brother of North Korea's ruler in a bizarre airport assassination are expected to plead innocent when they appear in a Malaysian court on Friday, their lawyers said.
Indonesian Siti Aisyah and Vietnamese Doan Thi Huong are suspected of smearing Kim Jong Nam's face with the banned VX nerve agent at a crowded airport terminal in Kuala Lumpur on Feb. 13. The women, who face the death penalty if convicted, say they were duped into thinking they were playing a harmless prank for a hidden-camera show.
They are the only suspects in custody in a killing that South Korea's spy agency said was part of a five-year plot by reclusive North Korean leader Kim Jong Un to kill a brother he reportedly never met. Four North Korean suspects fled the country, police say.
The women's lawyers say their clients are expected to plead not guilty at the High Court Friday.
Here's a look at the significance of Kim's death and the two suspects:
WHY WAS KIM JONG NAM ASSASSINATED
North Korea has a long history of ordering killings of people it views as threats to its regime. While Kim Jong Nam was not thought to be seeking influence, his position as eldest son of the family that has ruled North Korea since its founding could have made him appear to be a danger. Kim had also spoken out publicly against his family's dynastic control of the reclusive, nuclear-armed nation.
North Korea has refused to accept the dead man was leader Kim Jong Un's half brother and has suggested the victim died of a heart attack. It has accused Malaysia of working with South Korean and other "hostile forces" in blaming Pyongyang.
Kim Jong Nam died while en route to a hospital after he fell ill at a budget terminal of the Kuala Lumpur International Airport while waiting for a flight to Macao. He told medical workers before he died that he had been attacked with a chemical spray that Malaysian officials later identified as the deadly VX nerve agent.
Kim Jong Nam, who was 45 or 46, had been living abroad for years. He reportedly fell out of favor when he was caught trying to enter Japan on a false passport in 2001, saying he wanted to visit Tokyo Disneyland.
INDONESIAN SUSPECT
Siti Aisyah, 25, was recruited in early January by a North Korean man, known as James, to star in his video prank shows, according to her lawyer Gooi Soon Seong.
The two met at a pub in downtown Kuala Lumpur and over the course of several days, James had Siti rub oil or pepper sauce on a victim's face from forehead downwards which he would film on his phone, the lawyer said. They practiced at malls, hotels and airports. Gooi said Aisyah was paid $100-$200 for each prank and hoped the income would allow her to stop working as a social escort.
In late January, Aisyah flew to Cambodia where James introduced her to Hong Song Hac, one of four North Korean suspects who left Malaysia on the day of the killing. Hong had introduced himself as Chang, a Chinese who produces video prank shows for the Chinese market, the lawyer said.
Gooi said Hong asked Aisyah to do several more pranks at the Kuala Lumpur airport a few days before Kim was attacked. He said that Hong identified Kim to Aisyah at the airport and allegedly put the poison on her hand.
James, identified by police as Ri Ji U, was among seven North Korean suspects wanted by Malaysian police. Four fled the country on Feb. 13 and the other three, including James, hid inside their country's embassy in Kuala Lumpur to avoid questioning.
The three were later allowed to fly home in exchange for nine Malaysians held in Pyongyang, as part of a deal to ease a diplomatic spat between the two countries. Gooi said James was key to Aisyah's defense and that his absence could weaken her case.
Aisyah, who has a son, has wrote to her family telling them to pray for her "so that the case will be over soon and I can go back home."
VIETNAMESE SUSPECT
Huong, 29, was caught on airport security surveillance camera wearing a white jumper emblazoned with big black letters "LOL" — acronym for laughing out loud.
Security camera apparently showed her lunging at Kim Jong Nam from behind in a crowded airport terminal.
Little is known about Huong. Raised in a rice farm in northern Vietnam, her family said they had hardly heard from her since she left home a decade ago, aged just 18 years.
She made postings on a Facebook page under the name Ruby Ruby, according to her niece, Dinh Thi Quyen.
Photos on the page show Huong wearing a white shirt that appears to say "LOL," like the one seen on security camera video during the attack. It shows her posing for selfies in Kuala Lumpur a few days before the attack and in January in Phnom Penh, Cambodia.
Her last post was on the morning of Feb. 11, two days before the attack, from an area near the airport.
"I want to sleep more but by your side," she wrote above a photo showing her with her eyes closed.
Story: Eileen Ng