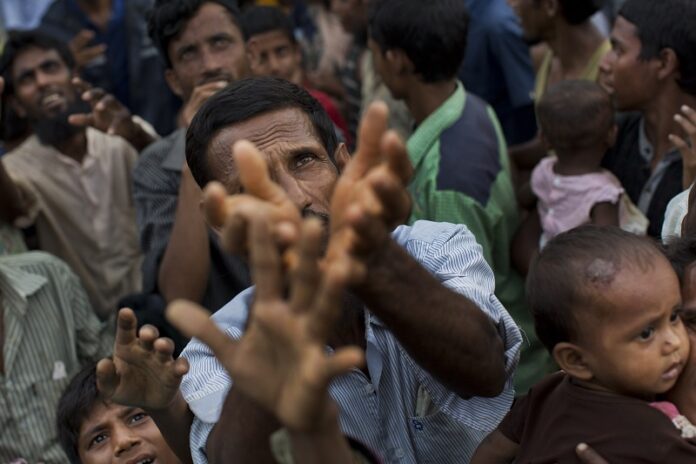 SHAH PORIR DWIP, Bangladesh — Aid officials said relief camps were reaching full capacity as thousands of Rohingya refugees continued to pour into Bangladesh on Sunday fleeing violence in western Myanmar.
Some 73,000 people have crossed the border since violence erupted Aug. 25 in Myanmar's Rakhine state, said U.N. High Commissioner for Refugees spokeswoman Vivian Tan.
The violence and the exodus began after Rohingya insurgents attacked Myanmar police and paramilitary posts in what they said was an effort to protect their ethnic minority from persecution by security forces in the majority Buddhist country. In response, the military unleashed what it called "clearance operations" to root out the insurgents.
Another aid official said Saturday that more than 50 refugees had arrived with bullet injuries and were moved to hospitals in Cox's Bazar, on the border with Myanmar. Refugees reaching the Bangladeshi fishing village of Shah Porir Dwip described bombs exploding near their homes and Rohingya being burned alive.
From an area close to the Bangladeshi border town of Teknaf, soaring flames and smoke could be seen rising from Myanmar across the border on Sunday.
Aid workers said that large numbers of refugees required immediate medical attention as they were suffering from respiratory diseases, infection and malnutrition. The existing medical facilities in the border area were insufficient to cope up with the influx and more aid and paramedics were needed, aid workers said.
Both Myanmar's security officials and Rohingya insurgents are accusing each other of atrocities. The military has said nearly 400 people, most of them insurgents, have died in clashes. Bangladesh police, meanwhile, say dozens of Rohingya have died attempting to cross the river separating the country from Myanmar.
The Myanmar government blames the insurgents for burning their own homes and killing Buddhists in Rakhine. Longstanding tensions between Rohingya Muslims and Buddhists erupted in bloody rioting in 2012, forcing more than 100,000 Rohingya into displacement camps, where many still live.
Story: Bernat Armangue