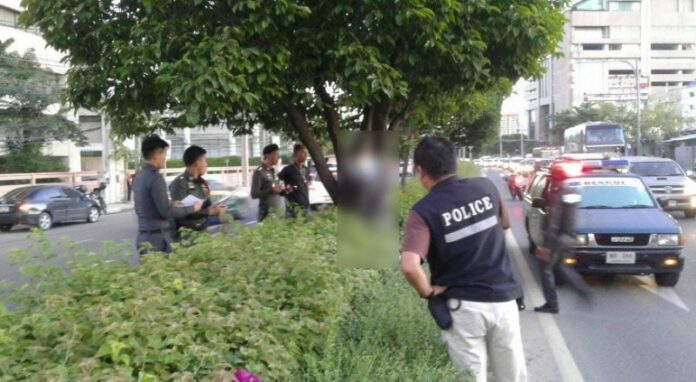 BANGKOK — The body of a man was found hanging from a tree in middle of a road median early Monday morning in Suan Luang district.
Police and rescue officials arrived at 5:50am at the intersection between Krung Thep Kritha and Srinagarindra Roads, after a street sweeper alerted authorities that the body of man was hanging from a tree branch on the median.
"I believe it was a suicide, because it happened in the middle of the road. Nobody would kill someone else in the middle of the road," Col. Saksit Meesawat of Hua Mak police station said.
The man, who had no documentation on him, had not been identified as of Monday morning.
Traffic in the area was disrupted during the process to remove the body.
ด่วน ! พบผู้เสียชีวิตชาย 1 ราย ผูกคอกับต้นไม้เกาะกลางถนน ถนนศรีนครินทร์ ใกล้เคียงแยกกรุงเทพกรีฑา มีรถ จนท.จอดฝั่งขาออก รถติด

cr.วังทอง 003 pic.twitter.com/EI9qKE49ch

— สวพ.FM91 (@fm91trafficpro) 3 กันยายน 2560