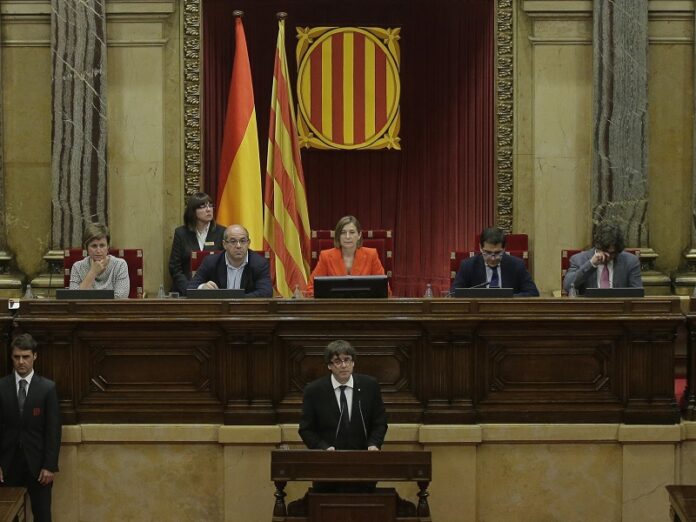 BARCELONA, Spain — Catalan separatists on Tuesday signed what they called a declaration of independence from Spain to cheers and applause in the regional parliament. Catalonia's president said he would delay implementing it for several weeks to give dialogue a chance.
Spain, however, called an emergency Cabinet meeting for Wednesday morning and gave little indication it is willing to talk.
In his highly anticipated speech, regional President Carles Puigdemont said the landslide victory in a disputed Oct. 1 referendum gave his government the grounds to implement its long-held desire to break century-old ties with Spain.
But he proposed that the regional parliament "suspend the effects of the independence declaration to commence a dialogue, not only for reducing tension but for reaching an accord on a solution to go forward with the demands of the Catalan people."
"We have to listen to the voices that have asked us to give a chance for dialogue with the Spanish state," Puigdemont said.
The central government in Madrid responded that it did not accept the declaration of independence by the separatists and did not consider the referendum or its results to be valid. Spanish Deputy Prime Minister Soraya Saenz de Santamaria said an emergency Cabinet meeting had been called for Wednesday.
The Catalan leader "doesn't know where he is, where he is going and with whom he wants to go," she said.
Saenz de Santamaria said the government couldn't accept the Catalan government's validation of its referendum law because it is suspended by the Constitutional Court, or the results of the Oct. 1 vote because it was illegal and void of guarantees.
She said Puigdemont had put Catalonia "in the greatest level of uncertainty seen yet."
One of the government's options at the Wednesday meeting could be to set about applying Article 155 of the Constitution, which allows the central government to take some or total control of any of its 17 regions that don't comply with their legal obligations. This would begin with a Cabinet meeting and a warning to the regional government to fall into line. Then, the Senate could be called to approve the measure.
Puigdemont also could be called in for questioning in court and possibly arrested.
Following his speech, the Catalan leader was the first to sign the document titled "Declaration of the Representatives of Catalonia." Dozens of other separatist lawmakers signed it after him.
The signatories said the document was a full declaration of independence.
Joan Barcelo, a researcher on political conflicts at Washington University in St. Louis, said the mixed messages sent by Puigdemont's speech did little in his effort to rally international support.
"It's a mess and a mistake in political communication strategy," Barcelo said. "He was trying not to burn bridges to dialogue, but he's going to create doubts among his supporters."
In his remarks, Puigdemont was highly critical of the Spanish government's response to the referendum and the violent police reaction that left hundreds injured on voting day, but said Catalans have nothing against Spain or Spaniards, and that they want to understand each other better.
"We are not criminals, we are not crazy, we are not pulling off a coup, we are not out of our minds. We are normal people who want to vote," he said.
Opposition leader Ines Arrimadas of the Ciutadans (Citizens) party slammed the speech.
"This is a coup. Nobody has recognized the result of the referendum. Nobody in Europe supports what you have just done," she said.
"The majority of Catalans feels they are Catalans, Spanish and European. … We won't let you break our hearts into bits," Arrimadas said.
Socialist leader Miquel Iceta also was highly critical.
"You are proposing to suspend a declaration that hasn't been made, that's pretty tough," he said with irony, adding that "you can't claim a mandate from the Oct. 1 vote … a vote that had no guarantees."
Puigdemont's speech marked a critical point in a decade-long standoff between Catalan separatists and Spain's central authorities. Security was tight in Barcelona and police cordoned off a park surrounding the legislative building.
In Brussels, European Council President Donald Tusk pleaded directly with the Catalan leadership ahead of the speech to choose dialogue rather than a divisive call for independence.
"I ask you to respect in your intentions the constitutional order and not to announce a decision that would make such a dialogue impossible," he said.
Some 2.3 million Catalans – or 43 percent of the electorate in the northeastern region – voted in the referendum. Regional authorities say 90 percent were in favor and declared the results valid. Those who opposed the referendum had said they would boycott the vote.
Rajoy's government had repeatedly refused to grant Catalonia permission to hold a referendum on the grounds that it was unconstitutional, since it would only poll a portion of Spain's 46 million residents.
Catalonia's separatists camp has grown in recent years, strengthened by Spain's recent economic crisis and by Madrid's rejection of attempts to increase self-rule in the region.
The political deadlock has plunged Spain into its deepest political crisis in more than four decades, since democratic rule was restored following the dictatorship of Gen. Francisco Franco.
Thousands rallied in Barcelona's streets and watched Puigdemont's speech. For some, his move to not declare outright secession was disappointing.
"I feel a little sad because now is not independence," said 55-year-old Maria Gill. "We must wait a few weeks, a few weeks we must talk with the government of Spain."
Others took a more stoic approach.
"Perhaps it isn't the decisive declaration, declaring the republic and breaking away (from Spain) from today before any negotiation," said Oscar Baldes. "But it's a first step and that's important."
Any declaration of independence won't immediately lead to the creation of a new state because the Catalan government will need to figure out how to wrest control of its sovereignty from a Spanish government that has the law, and international support, on its side, said Barcelo, the researcher on political conflicts.
He said any declaration must be viewed through the lens of "the Catalan government's long-term strategy of provoking an extraordinary and even clumsy reaction from central authorities" to build support.
Hundreds of thousands have turned out for protests in Barcelona and other towns in the past month to back independence and protest against police violence during the vote. Those committed to national unity have also staged separate, large-scale rallies.
Polls indicate that Catalonia's 7.5 million residents are evenly divided over secession, although a majority support holding a referendum on independence authorized by central authorities.
The tension has already affected the economy, with dozens of companies relocating their corporate addresses to remain under Spanish and European laws if Catalonia secedes. The moves of the firms' bases have not so far affected jobs or investments, but they don't send a message of confidence in the Puigdemont government.
Story: Aritz Parra, Joseph Wilson