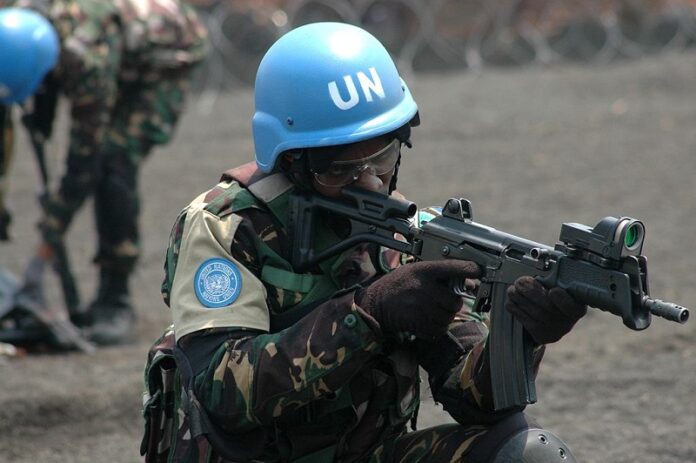 UNITED NATIONS — The United States and human rights groups sharply criticized Monday's U.N. election for 15 new members of the Human Rights Council, singling out conflict-torn Congo's victory despite accusations of serious rights abuses and an investigation by the U.N.'s top human rights body.
U.S. Ambassador Nikki Haley called the election "yet another example of why the Human Rights Council lacks credibility and must be reformed in order to be saved."
Haley previously dangled the possibility that the United States could quit the council during a visit to its Geneva headquarters in June, when she lambasted the 47-nation body as a "forum for politics, hypocrisy and evasion" that allows rights abusers to whitewash their images and foes of Israel to criticize the Jewish state unfairly.
In a statement after the 193-member General Assembly voted Congo onto the Human Rights Council as part of an uncontested African slate for a three-year term starting Jan. 1, Haley said the rights organization "cannot endure many more blows to its credibility before it is rendered absolutely meaningless."
Haley called Congo "a country infamous for political suppression, violence against women and children, arbitrary arrest and detention, and unlawful killings and disappearances" and said its unopposed election is another spur to U.S.-led efforts to reform the Human Rights Council.
She made no mention of a U.S. withdrawal from the council. She said in June the United States wants to see two key reforms: the use of competitive elections to choose the council's 47 members and removal of Israel as a permanent fixture on its agenda – the only country in the world that has a permanent spot.
"Countries that aggressively violate human rights at home should not be in a position to guard the human rights of others," Haley said. "We need a unified voice of moral clarity with backbone and integrity to call out abusive governments. This election has once again proven that the Human Rights Council, as presently constituted, is not that voice."
Louis Charbonneau, U.N. director at Human Rights Watch, called Congo's election "a slap in the face to the many victims of the Congolese government's grave abuses across the country."
African countries had four candidates for their continent's four seats on the council and Congo got the lowest number of votes – 151. But that was still far about the 97 votes needed to win a seat.
The relatively low total shows President Joseph Kabila's Congo "is fast becoming a pariah state. If there had been competition, it probably would have lost," Charbonneau said.
Hillel Neuer, executive director of UN Watch, a Geneva-based rights group, singled out three of the winners – Congo, Qatar and Pakistan – for criticism, saying for the U.N. to elect them "as a world judge on human rights is like making a pyromaniac into the town fire chief."
The only contested slate was in Asia where six countries vied for four seats. Nepal topped the vote, followed by Qatar and Pakistan. Afghanistan, which got 130 votes, beat out Malaysia by a single vote for the fourth seat. The Maldives also lost.
The other winners in uncontested races were Angola, Nigeria, Senegal, Slovakia, Ukraine, Chile, Mexico, Peru, Australia and Spain.
Story: Edith Lederer