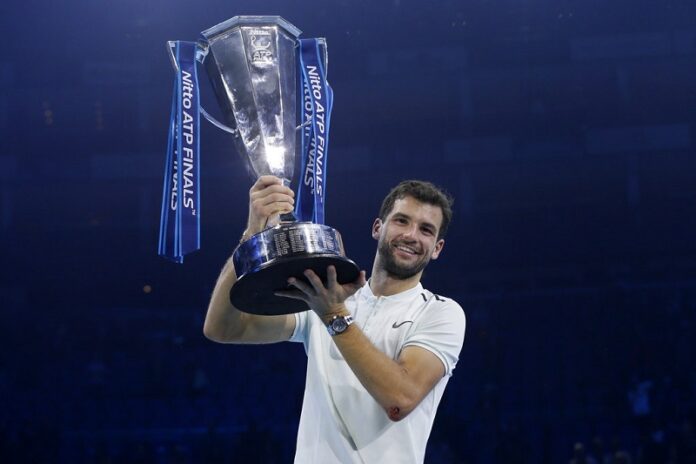 LONDON — Grigor Dimitrov's talent took him to the brink of his biggest career win — but he needed more than that to get over the line.
The sixth-seeded Bulgarian claimed the title at the season-ending ATP Finals on Sunday, prevailing on his fifth match point to beat David Goffin 7-5, 4-6, 6-3 in the final.
"I felt I had a good mental toughness throughout the whole year," Dimitrov said. "So when my body's allowing me to do this kind of preparation, I feel I already have an advantage over any other player. And right now those are the moments that I rise up to."
It wasn't the Roger Federer-Rafael Nadal matchup many fans had hoped for, but they were left satisfied as the two 26-year-olds delivered the longest final since the tournament returned to a three-set format in 2008.
Dimitrov won in 2 hours, 30 minutes, 15 seconds, adding 11 minutes to the mark set by Federer and Jo-Wilfried Tsonga in 2011.
That wasn't the only record Dimitrov set. After winning all five of his matches at the O2 Arena, he became the first player to win the elite tournament on debut since 1998, when Alex Corretja of Spain triumphed in Hanover.
"I was a little bit tired," said Dimitrov, who beat Goffin for the loss of just two games when they met on Wednesday. "I had to play a few matches obviously back-to-back against solid opponents. I knew that David is going to try something new. He had to be aggressive in order so he doesn't let me play my game."
Goffin's adjustments paid off early as he broke Dimitrov's first two service games either side of losing his own, before settling down to control the opener.
However, Dimitrov fought his way back. He leveled in the eighth game before breaking once more in the 12th to snatch the set, despite Goffin hitting eight more winners.
Dimitrov's confidence carried into the second set, where he brought up the first break point in the sixth game, only for Goffin to produce a stunning cross-court backhand winner to save it. The momentum back with him, Goffin broke the following game for a 4-3 lead and calmly closed out the set.
Having become the sixth player to beat Nadal and Federer at the same tournament – the latter from a set down in the semifinals – Goffin had every reason to be confident after drawing level. But he wasted four break points in the opening game and they would turn out to be his only chances in the decider.
"I think after this week I'm a better player mentally," said Goffin, who ends the season at a career-high No. 7 ranking. "I proved to myself that I can do it."
Dimitrov was more clinical, striking in the sixth game to take control of the third set. However, the Bulgarian has had problems closing matches out this season – losing three times after holding match points – and had cause for concern when Goffin saved his first three to hold from 0-40 down at 2-5.
Dimitrov served his way to 40-15 but saw another chance drift away, before Goffin finally netted a backhand volley to end the match.
"I was a little bit tired in the third," Goffin said. "It's the only game maybe I didn't serve well. I didn't put a lot of first serves in that game … He was really solid."
Dimitrov claimed his first Masters title in Cincinnati in August, and having risen to a career-high No. 3-ranking with victory in London, his next target is a Grand Slam.
"I don't want to get too hyped up because I've done well, now I'm No. 3 in the world," Dimitrov said. "Of course, one of my main goals is to win a Grand Slam tournament. This has always been, again, a dream of mine."
(This story has been corrected to show it was the longest three-set final since the tournament returned to a three-set format in 2008, not the longest three-set final ever.)
Story: Sam Johnston