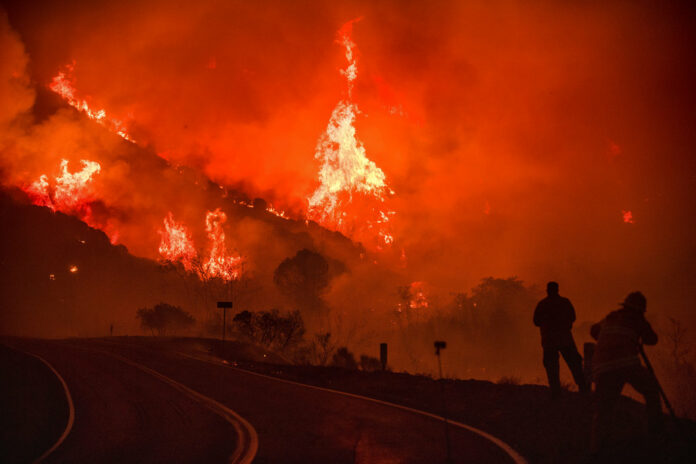 FALLBROOK, California — Flames were practically on top of Dick and Joan Marsala's home when they got an urgent knock on the door and were told to leave.
The couple, in their mid-80s, grabbed only a change of clothes and medications before fleeing Thursday through wind gusts and smoke as fire swallowed the row of mobile homes behind their place in the Rancho Monserate Country Club north of San Diego.
It's a story that has played out in communities across much of Southern California this week as ferocious winds whipped sparks into massive infernos that have killed one person, destroyed nearly 700 homes and buildings, killed dozens of horses and forced hundreds of thousands of people to run from fires that have burned more than 260 square miles (673 square kilometers) since Monday.
On Friday, the first fire-related death was confirmed by the Ventura County medical examiner's office.
Virignia Pesola, 70, of Santa Paula, was found dead Wednesday night along an evacuation route near a fire northwest of Los Angeles. Her death was caused by crash injuries, smoke inhalation and burns, the medical examiner's office said in a statement.
The flames that tore through Fallbrook, self-proclaimed "Avocado Capital of the World," and nearby Bonsall, home to a premier racehorse training facility, traveled so far that even people who found temporary refuge had to move again when the fires got too close.
Flames sprang up so quickly and moved so fast that three people were burned Thursday trying to escape. Many of those who managed to get out unscathed did so with only the clothes on their backs after abandoning a lifetime of possessions to fate.
The Marsalas and other unlucky homeowners returned Friday to find their homes in ruins.
Dick Marsala was too overwhelmed to speak as he searched through the smoldering remnants in search of his wallet. It was still too hot, so he climbed back out. Peering through a broken window, he spotted a framed photo still hanging on a blackened wall. It was a picture of him golfing.
"I'll be darned," he said, his eyes tearing up as he put on sunglasses.
The charred gray remains of much of the 55-and-over community stood in stark contrast to the bright green nine-hole golf course where Marsala and others in the community played regularly.
Many residents were on the course when the fire swept into the area, driven by dry desert Santa Ana winds that surpassed 35 mph (56 kph). That was too fast for firefighters to stop the flames.
"The crews were trying to stay out ahead of this as quickly as they could," said Capt. Kendal Bortisser of the California Department of Forestry and Fire Prevention. "As we know, when a tornado hits the Midwest, there's no stopping it. When a hurricane hits the East Coast, there's no stopping it. When Santa Ana winds come in, there's no stopping them."
Tom Metier was brushing his teeth to get ready for a doctor's appointment when sheriff's deputies pulled up and yelled, "Get out now!"
He grabbed the key to his safety deposit box, prescription pills and some cash. Winds were howling outside, and flames leaped through the brush on a nearby hillside.
Metier, who expected to lose everything, was surprised to find his place intact Friday. He zipped through the mobile home park in a golf cart, fielding calls from neighbors and reporting whose homes survived and whose were gone.
More than a third of the community's 213 mobile homes burned as the fire zigzagged along a hillside, skipping some streets and razing others. On one street, all 24 mobile homes were gone, with only hulls of cars and stoves left.
"It's really horrible to see some of these little streets look like a moonscape," he told a friend whose home was reduced to black rubble.
The fire 50 miles (80 kilometers) north of San Diego ignited for unknown reasons and destroyed at least 105 structures as it burned 6 square miles (16 square kilometers).
Meanwhile, firefighters northwest of Los Angeles gained some control over the largest and most destructive fire in the state, which destroyed 476 homes and buildings. The blaze in Ventura County grew to 223 square miles (533 square kilometers) since igniting.
Some of the first evacuees from the fire who had to flee on Monday were allowed to return on Friday, including everyone from the city of Santa Paula, the first city threatened by the week's fires.
Along the coast between Ventura and Santa Barbara, tiny communities had so far survived close calls. Slopes along U.S. 101 were blackened, but homes still stood at La Conchita and Faria Beach. Sections of Carpinteria were under mandatory or voluntary evacuation orders, but no flames were in sight.
Fire crews made enough progress against other large fires around LA to lift most evacuation orders.
The Fallbrook fire broke out along State Highway 76 and quickly jumped six lanes to the other side.
Horse trainers took stock of the damage at the elite San Luis Rey Downs training facility for thoroughbreds in Bonsall, where many of the more than 450 horses were cut loose to prevent them from being trapped in burning stables.
Frantic herds galloped through smoke and past flaming palm trees in a chaotic escape from a normally idyllic place.
"We almost got trampled to death," trainer Kim Marrs said. "One gal got knocked down. I thought she was going to get crushed. You just had to stand there and pray they didn't hit you."
Most of the loose horses were corralled and taken to Del Mar Fairgrounds, but about 25 died as barns and pasture burned.
The fire, on the eastern border of the Marine Corps' Camp Pendleton, was uncontained, although winds subsided significantly overnight. Forecasters said they would return later in the day but be less widespread.
Authorities said 1,000 firefighters battled the flames with help from a fleet of air tankers and helicopters. Crews were also dispatched to stamp out a small new fire that began to the east in the Cleveland National Forest near the mountain town of Alpine.
Story: Julie Watson, Elliot Spagat