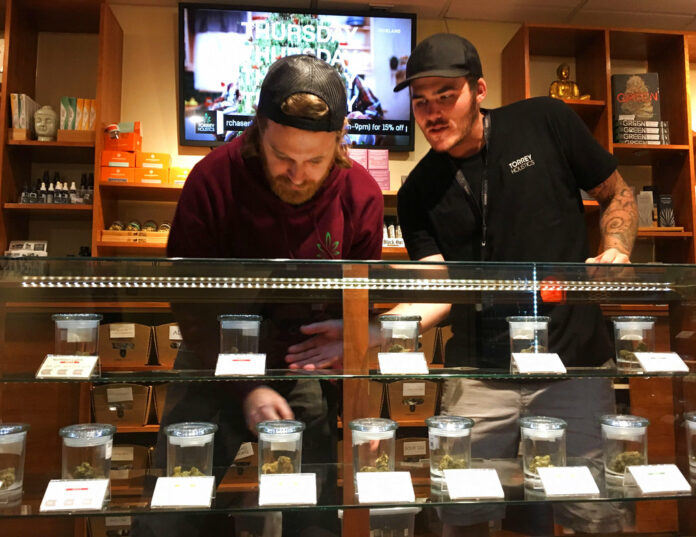 LOS ANGELES — California on Thursday issued its first batch of business licenses for the state's upcoming legal marijuana market, setting the stage for sales to begin in January.
The first temporary license was awarded to Pure CA, which does business as Moxie brand products, a company known for its cannabis extracts.
"I couldn't be more excited," said Moxie CEO Jordan Lams, who credited "a lot of the stars aligning" for being awarded the first distributor license for recreational pot.
"California has been without regulations for a very long time. So there is going to be a transition period," he added, referring to the changes coming in 2018 with legal cultivation and sales.
The release of the initial 20 temporary licenses, good for 120 days, represents another steppingstone toward legal purchases, which were approved by voters last year.
"We plan to issue many more before Jan. 1," Lori Ajax, the state's top marijuana regulator, said in a statement.
The first license for recreational retail sales went to Torrey Holistics in San Diego, which submitted a 60-page lease, diagrams and a detailed business plan.
Tony Hall, who opened the shop two years ago with a college friend, said he sees recreational marijuana taking off like the wine and craft beer industries.
Customers go through an electronic security gate manned by a guard. Once inside, the business looks like a stylish pharmacy with wood floors and Christmas decorations.
"The taboo part is slowly going to be removed and this is going to be like any other business," Hall said.
In general, California will treat cannabis like alcohol, allowing people 21 and older to legally possess up to an ounce and grow six marijuana plants at home.
Come January, the newly legalized recreational sales will be merged with the state's two-decade-old medical marijuana market, which is also coming under much stronger regulation.
The state and local governments have been rushing to develop rules for the new industry. A patchwork is emerging with some cities embracing legal sales and others banning commercial pot activity.
In the background is widespread uncertainty about whether President Donald Trump's administration will attempt to intervene in states where marijuana is legal.
As marijuana is illegal in the eyes of the federal government, major banks are leery to do business with dispensaries and growers so much of the business is conducted in cash.
Story: Michael R. Blood and Julie Watson