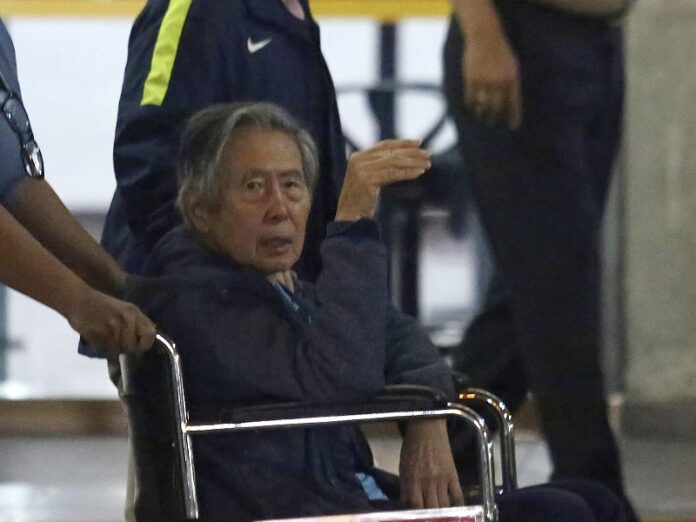 LIMA, Peru — Former strongman Alberto Fujimori says he spent his first hours as a free man following his controversial Christmas Eve pardon dreaming of "a Peru without bitterness."
In his first public remarks since being released from a Lima health clinic, Fujimori on Saturday tweeted calls for Peruvians to set aside resentment following President Pedro Pablo Kuczynski's decision to pardon his 25-year sentence on humanitarian grounds.
"In the first hours of this new chapter of my life, I am filled with dreams I wanted to share," he wrote in the first of two posts. "I dream of a Peru without bitterness in which we all work toward a higher goal."
Fujimori added that Peru will become a country that "regains its security and eliminates violence" if special interests are put aside.
The Andean nation's former president was taken to a clinic following his release from prison. He issued a statement from his hospital bed apologizing to those Peruvians he disappointed during his decade-long rule.
The pardon sent thousands of Peruvians into the streets in protest and has been condemned by human rights activists.
Fujimori was convicted in 2009 for his role in the killings of 25 people, including an 8-year-old boy. He was also later found guilty of having had knowledge of the existence of death squads financed with public money that killed civilians accused of being Shining Path members.
Some Peruvians credit Fujimori with stabilizing the economy and defeating the country's Maoist guerrillas while others condemn him for permitting widespread human rights violations.
His political legacy has continued through the work of two children who are now among the nation's most prominent politicians. It remains to be seen whether Fujimori himself intends to have a voice in the South American nation's polarized politics following his release.
Fujimori's doctor has said he suffers from heart problems though few details have been provided on his condition. He was released from a clinic in Peru's capital on Thursday, leaving in a wheelchair in the company of his youngest son.