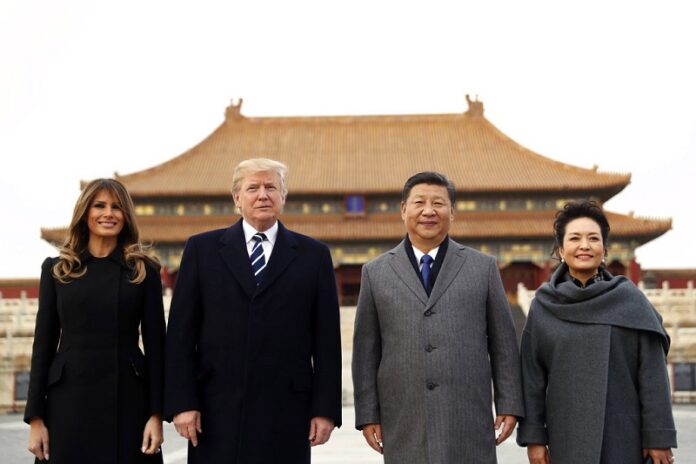 BEIJING — China on Wednesday vowed to impose measures of the "same strength" in response to a proposed U.S. tariff hike on USD$50 billion worth of Chinese goods in a spiraling technology dispute that has fueled fears it might set back the global economic recovery.
The Commerce Ministry said it would immediately challenge the U.S. move in the World Trade Organization.
"At the same time, we are preparing to take measures of the same strength and same scope against U.S. goods," said a ministry statement. "These measures will be announced shortly."
The latest clash reflects growing tension between President Donald Trump's promises to narrow the multibillion-dollar U.S. trade deficit with China and Beijing's ambitious development plans. Those include using its vast market as leverage to induce foreign companies to help create local industry and technology.
Chinese officials have given no indication what U.S. goods might be targeted but businesspeople and economists have cited Boeing jetliners and soybeans as possible targets.
The dispute has fueled fears it might set back the global recovery if other governments are prompted to raise their own import barriers.
American companies have long chafed under Chinese regulations that require them to operate through local partners and share technology with potential competitors in exchange for market access. Business groups say companies feel increasingly unwelcome in China's state-dominated economy and are being squeezed out of promising industries.
The U.S. Trade Representative's Office said it was responding to Chinese policies that "coerce American companies into transferring their technology and intellectual property to domestic Chinese enterprises."
A USTR report on Chinese industrial policy released Tuesday also cited complaints Beijing carries out or supports cyberspying to steal foreign business secrets, though it was unclear whether the latest tariff hike was in response to that.
Companies have warned Trump's action might hurt U.S. companies and consumers.
"The administration is rightly focused on restoring equity and fairness in our trade relationship with China," said the executive vice president of the U.S. Chamber of Commerce, Myron Brilliant, in a statement. "However, imposing taxes on products used daily by American consumers and job creators is not the way to achieve those ends."
The USTR also launched a WTO case last month challenging Chinese policies it said unfairly limit foreign companies' ability to control their technology. U.S. authorities say Beijing denies foreign companies the right to block use of technology by a Chinese entity once a licensing period ends and imposes contract terms that are less favorable than for local technology.
Foreign companies are increasingly alarmed by initiatives such as Beijing's long-range industry development plan, dubbed "Made in China 2025," which calls for creating Chinese global leaders in electric cars, robots and other fields. Foreign companies complain that strategy appears to limit or outright block access to those industries.
China has accused Trump of damaging the global system of trade regulation by taking action under U.S. law instead of through the WTO. The Commerce Ministry's statement Wednesday criticized the latest moves as "a typical unilateralist and protectionist practice."
In a separate dispute, Beijing raised tariffs Monday on a $3 billion list of U.S. goods including pork, apples and steel pipe in response a higher American import duties on steel and aluminum.
The U.S. tariff hike on steel and aluminum has little impact on China but the latest round of duties will be far more sensitive for Beijing. It targets industries seen by Chinese leaders as their country's economic future including telecoms, medical, aerospace and information technology.
The USTR announcement said those products were targeted because they benefit from Chinese industry development policies Washington considers unfair.
The Chinese measures announced Monday raised tariffs on pork, aluminum scrap and some other products by 25 percent. A 15 percent tariff was imposed on apples, almonds and some other goods.
Story: Joe McDonald