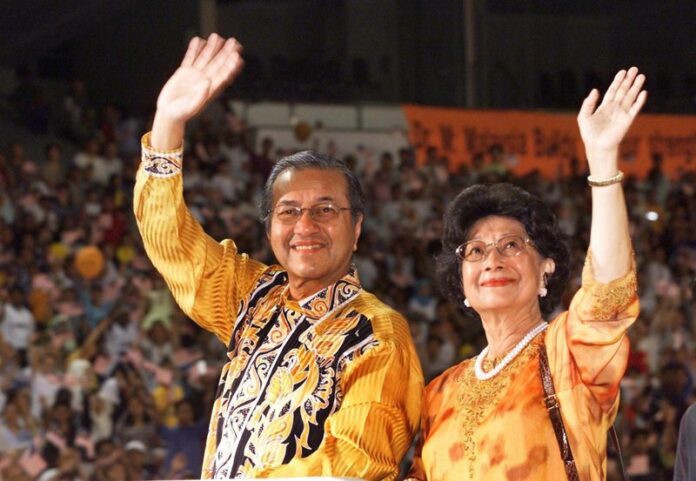 KUALA LUMPUR — The wife of former Malaysian premier Mahathir Mohamad urged women on Friday to support the opposition coalition in next month's general election for a better future.
Women are nearly half of the 14.94 million people eligible to vote in the May 9 polls that will pit Prime Minister Najib Razak's long-ruling coalition against an opposition coalition headed by his former mentor Mahathir, one of Asia's longest serving premier for 22 years until his retirement in 2003.
Siti Hasmah Mohamad Ali, 91, said she was initially torn when Mahathir, 92, decided to return to politics but conceded after he told her that it was "his duty" to help the country.
"This is really unprecedented for someone so young to have a second round," she told a news conference.
"I would like to tell you that my heart was divided because we are no longer young. I hesitated at first and I questioned my husband whether he really really wanted to be the potential seventh PM," she said. "He told me plainly that it is his duty to the country and people of Malaysia and be the seventh PM if they want him to do so."
The news conference was a rare appearance by Siti Hasmah, who has always kept a low profile and always been seen with her husband.
She has followed Mahathir on his campaign and said they were encouraged by huge turnout at political rallies and is "confident that people want to change the government."
"If this is destined by Allah, God willing, he will do his job and I will be the first one to support him. I will have to sacrifice him again," she added.
The news conference was held jointly with opposition leader Wan Azizah Wan Ismail, who is the wife of jailed former deputy premier Anwar Ibrahim.
Anwar started the opposition's reform movement after he was sacked by Mahathir two decades ago and jailed in a sodomy case he said was politically motivated. Anwar was subsequently jailed in 2015 for a second sodomy conviction he said was aimed at weakening the opposition pact.
Mahathir and Anwar subsequently made peace in a remarkable turnaround, united by the aim of ousting Najib.
Support for Najib's ruling coalition declined in the last two elections and it lost the popular vote to the opposition in 2013 for the first time ever. Najib has also been tainted by a corruption scandal involving the 1MDB state development fund he set up that accumulated massive debt. Several countries are investigating possible embezzlement and money-laundering through the fund, though Najib denies wrongdoing.
Siti Hasmah and Wan Azizah appealed for women's support for the opposition coalition, saying women can be the kingmaker in the elections.
"If you ask which group has the ability to be the kingmaker — or why not queenmaker —in this 14th general election, we believe the answer is the women folk," they said in a joint statement. "We urge mothers who love their families and the future of this country to vote on May 9. Choose the best for the future of our family and country."